CEWE Photo Award 2021
Prizes totalling more than 250,000 euros
Deadline: 31 May 2021
Entry fee: Free
Submit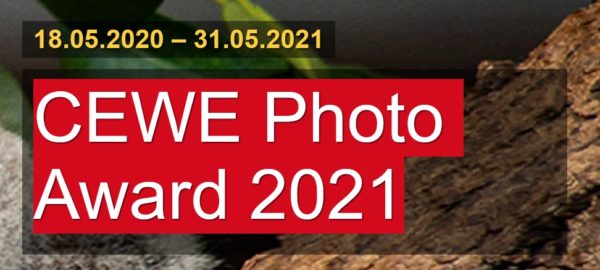 The CEWE Photo Award connects people who are enthusiastic about photography and celebrates the beauty of our world. The world's largest photo competition is back in its fourth edition with the motto "Our world is beautiful". Photos can be submitted in ten different categories. Win the coveted award and one of 1,000 prizes on offer, worth a total of 250,000 euros! CEWE will donate 10 cents to SOS Children's Villages worldwide for every photo submitted.
The main competition will include special theme awards with shorter durations. These special awards will be organised in various countries (regionally) and, as the case may be, along with cooperation partners. The conditions for participating in the main competition shall apply to all special awards and override any discrepancies. Refer to the corresponding pages on the competition platform for deviating regulations.
Prizes:
Our exciting first prize includes the CEWE Photo Award as well as a one-of-a-kind trip of your choice valued at 15,000 euros, photo equipment worth 7,500 euros and CEWE photo products worth 2,500 euros. The other nine category winners will each receive photo equipment worth 5,000 euros as well as CEWE photo products worth 2,500 euros. As prizes for places 11 through 30, we are awarding each winner photo equipment worth 2,500 euros and CEWE photo products worth 1,000 euros. Winners 31 through 1,000 will each be rewarded with a voucher for CEWE photo products worth 100 euros.
Eligibility:
Eligible for participation are natural persons over the age of 18. Participation is not limited to customers of the organiser and participants are not required to purchase any goods or services. Participants with limited legal competence require permission from their legal representative. Employees of CEWE, their dependants and other persons involved in the competition's preparation and realisation are excluded from participating.
Copyrights & Usage Rights:
Participants may upload up to 100 photos which they themselves have taken, for which they possess the unrestricted copyrights and usage rights, and the motifs of which do not contradict the legal provisions of the country of origin, the legal provisions of the European Union, or the personal rights of the persons in the pictures.
Theme: