Close-up Photographer of the Year 2021
Show the world what close-up, macro and micro photography can be.
Deadline: 23 May 2021
Entry fee: £10 for 1 image // £20 for 6 images // £30 for 15 images // £40 for 30 images  // £5 for Young CUPOTY (15 images)
Website: http://www.cupoty.com
Submit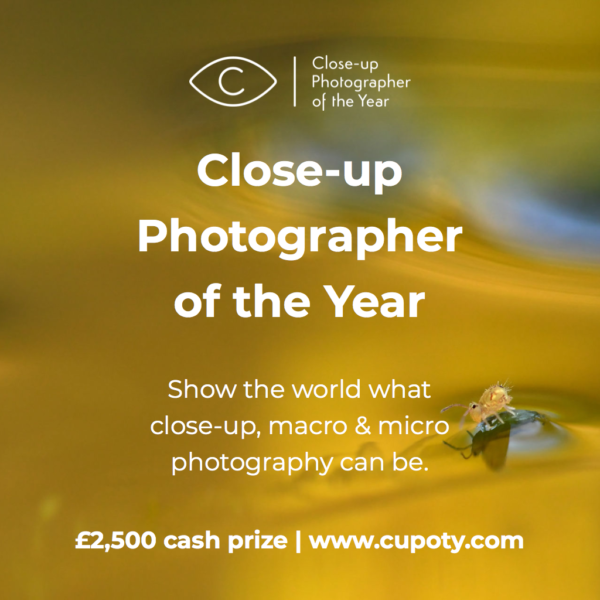 Join the gathering of passionate close-up, macro and micro photographers for the third Close-up Photographer of the Year (CUPOTY). This is your chance to put your pictures in front of an elite judging panel and worldwide audience – show them things they've never seen before, make them look again at something familiar, or wow them with the beauty and wonder of the world.
Can you make the celebrated shortlist galleries, offering inspiration to fellow photographers and illustrating just what close-up photography can be? The very best images will appear in the CUPOTY Top 100 winner's gallery, forming a permanent exhibition on the website. Your pictures could be seen by millions as they travel out into the world through newspapers, magazines, online outlets and social media.
We have two new categories to enter this year – Underwater and Butterflies & Dragonflies. They are added to Animals, Insects, Plants & Fungi, Intimate Landscape, Manmade, Micro and Young. 
This year the total prize fund has been boosted to £5,300. The overall winner receives £2,500 and a trophy, while each category winner receives £300. The Young CUPOTY winner is awarded a SIGMA 105mm F2.8 DG DN Macro Art lens and trophy.
Prizes:
• £2,500 – Overall winner
• £300 – Category winner
• SIGMA 105mm F2.8 DG DN Macro Art lens – Young (Under 18) winner
• Finalists appear in the permanent Top 100 online exhibition
• Shortlisted photographers appear in the online gallery for a year
Eligibility:
Open to anyone of any age, from any country, using any type of camera, phone or light microscope.
Copyrights & Usage Rights:
The photographer retains full copyright for each entry.
CUPOTY supports the Artists Bill of Rights.
CUPOTY may use any winning, Top 100 or shortlisted images for any purpose directly connected with the Competition e.g. on our website, in an exhibition or book or for publicity.
Theme:
Macro/Micro Wildlife Underwater Landscape Nature Seascapes Abstract Black and White Environmental Fine Art Multi-categories Other