Co-op Hot Shots 7: A Better Society
Share your SDG story through photos and stand to win $1,000!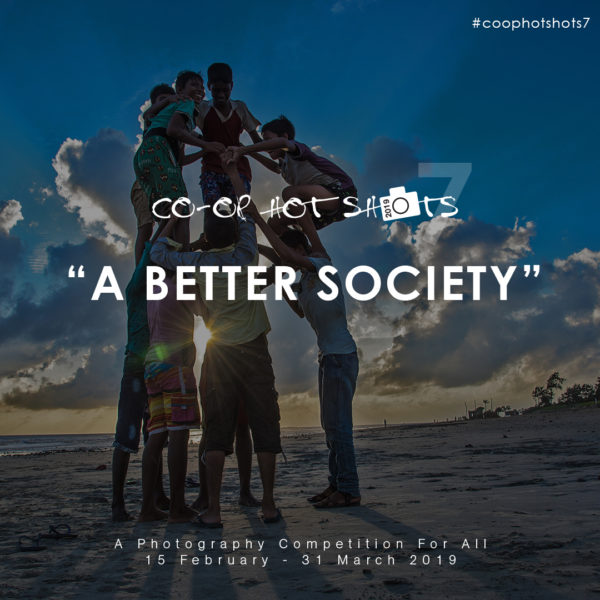 The theme is: A Better Society.
In one single image, participants have to show the judges an example of a better society in relation to any of the 17 Sustainable Development Goals (SDGs) and include a description/caption of not more than 30 words for each entry.
To be understood in its widest sense, the image of a better society in relation to any of the 17 SDGs could concern people, culture, environment or infrastructure (See more examples at http://scoop.coop/why-should-singaporeans-pay-attention-to-sdgs/).
The competition comprises 2 categories: International and Local Open, and the submissions will be via website and/or Instagram with hashtag #coophotshots7 and #ABetterSociety. Participants stand to win a top cash prize of S$1,000.
Prizes:
International
- 1st Prize: $500
- 2nd Prize: $300
- 3rd Prize: $150
Local Open
- 1st Prize: $1,000
- 2nd Prize: $500
- 3rd Prize: $250
Eligibility:
Everyone
Copyrights & Usage Rights:
- Entries that have won prizes in other competitions, or have been previously used or are intended to be used for any commercial purposes must not be submitted.
- SNCF reserves the rights to use, reproduce, edit and distribute entries submitted for internal and external publicity purposes, in any media format, and any media channels without obtaining further prior permission and payment of any fees or royalty to the participants.
Theme:
Architecture Cityscapes Culture Environmental Landscape Multi-categories Nature People Sports Underwater Street Urban Wildlife