Colors of the World
The world through your lens
Deadline: 31 August 2020
Entry fee: Free
Submit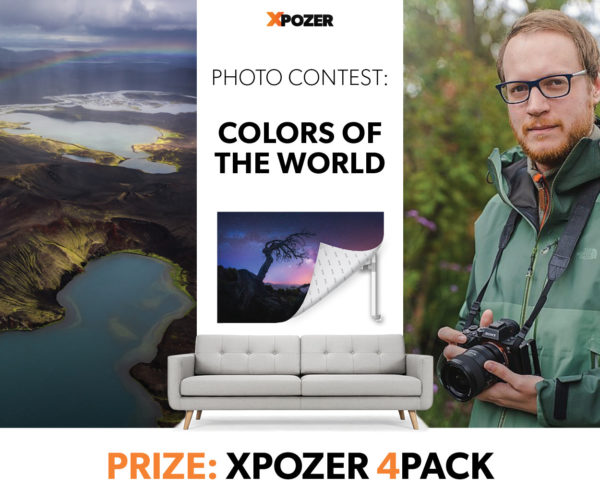 We want to see your photos that celebrate the colors of the world. The rich diversity of color within nature, cities, clothing, food, whatever you think best represents the theme of this summer challenge.
JURY of the month: Albert DrOs - A professional since 2012, Albert's work can be described as vibrant, colourful with a hint of fairytale. His landscapes have often been described as having a 'Lord Of The Rings' quality to them while his cityscapes are crystal clear and sharp. As a perfectionist he always tries to capture a certain moment or scene in the best possible way, spending time to get the shot he wants. He calls himself a 'modern' photographer and loves new technology, always trying to keep up with innovations. That's where he says Sony is a complete fit for his ethos and personality. His work has been featured in Time, National Geographic and the Huffington Post and his projects range from pure landscape work to artistic abstract approaches in which he is trying different things with photography. He believes it important to have no boundaries in expressing an artistic vision.
Prizes:
XPOZER 4PACK - 24"X36" OR 60X90CM
Discover more about the Xpozer 4Pack:
Razor-sharp prints
100% Glare-Free
Hang them perfectly with Xpozer's award-winning photo frame
Switch photos easily and hang your newest shots using the same frame
Eligibility:
The competition is open to participants worldwide
Copyrights & Usage Rights:
Basic photo contest rules
The competition is open to participants worldwide
Photographer maintains image rights
Entries must be relevant to the competition theme.
ONE entry per person per contest.
Participants who have created social accounts solely for participating in competitions or sweepstakes are not eligible to win.
The size of the Xpozer photo print prize is expected to be 60x90 cm. The final print size and ratio are discussed with the winner, depending on their wall space and photo resolution.
After a public vote, a professional jury concludes a winner from the top 25 submissions. As well as 2 Jury Prizes
The winners will be notified by e-mail within 14 days after the competition has ended. And then we share the winning photos on this page!
Contest closes 11:59:59 PM CEST the last day of every month.
By entering our competition you sign up to our newsletter to keep up to date with the photo contest and news from Xpozer
Photo Contest User Policy
The person who uploads a picture or other visual material (hereinafter: user) declares that he or she is authorized to use this material. The user guarantees to be the rightful owner of the material, or to represent the rightful owner of all intellectual property regarding the uploaded material.
In case of a violation or misuse of intellectual or commercial property, it is up to the victim to take action against the violator of the aforementioned rights. Xpozer is no party in such cases, and will not play any part in them. The user indemnifies Xpozer from any responsibilities in the case of a dispute.
The user is responsible for the correctness and completeness of the posted material. Xpozer takes no responsibility for the contents of the posted material.
Xpozer has a fair use policy. This means Xpozer has the right to deny Photo Contest entry to users who, in any way, abuse the tools and services provided by Xpozer. Xpozer is not responsible for damages done in any way, by denying entry to the Photo Contest.
The user grants Xpozer the gratuitous, non-exclusive rights to the use and reproduction of the uploaded material. This means the user agrees to Xpozer having the right to re-use the uploaded material. Think of using the material for the Xpozer blog or social media channels. Xpozer is in no way responsible for contradictory agreements with third parties, including agreements with photographed models.
The user guarantees that the posted material is in compliance with applicable laws and regulations, and in particular, does not violate public policies and generally accepted values and standards, and will not contain: offensive, gross or degrading materials and/or statements, elements that affect the privacy of third parties or that are offensive or obscene, or that may incite violations or crimes. It is therefore - but not exclusively - forbidden to post vulgar, hateful, threatening and (child) pornographic material. If such material is placed, Xpozer has the right to deny the user access to current and subsequent photo competitions.
The web master, administrator and moderators from Xpozer are able to - and have the right to - remove all content that, to their opinion, does not comply with our policy. Xpozer does not take responsibility for damages of any kind, directly or indirectly, including but not limited to loss of data, copyright infringement, hacking attempts, created in any way by and/or arising from the material placed on Xpozer.com, for whatever reason.
Xpozer is not liable for claims for damages of third parties. De user indemnifies Xpozer against all claims for compensation in this regard, as well as any legal action based on the assertion of infringement of any (intellectual) rights of third parties.
The user agrees that all user provided data will be saved in a database. This information won't be published to any third parties without the users' permission (except in the case of any illegal activity). However, Xpozer's web master or administrator cannot be held liable in case of a hacking attempt, which might lead to publishing of the database.
Theme: