Comedy Pet Photo Awards 2021
The Overall Winner of the Comedy Pet Photo Award will win a huge £2000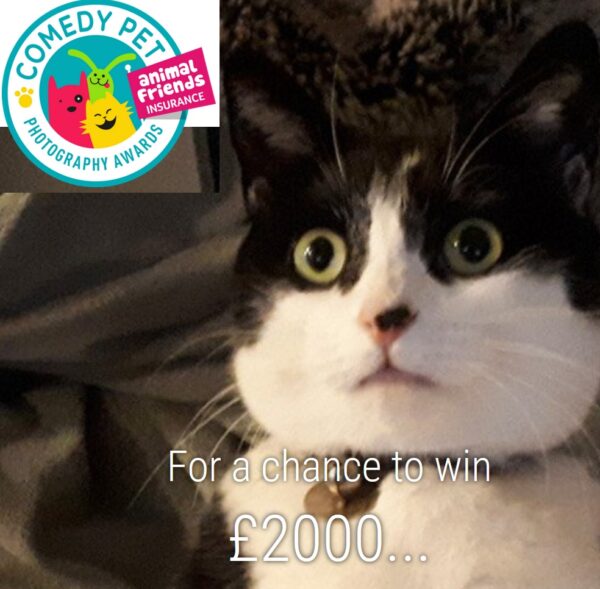 We absolutely love receiving your brilliant pet photos and videos, they are all fantastic and help us start the day with a humungus smile on our chops! So, we thought we would share some of this bonhomie with you all and reveal some of the corkers that have caught our eye so far this year! And if this has inspired you to get involved and send us a pic/vid of your cheeky, playful and extremely photogenic, loveable pet - then Woohoo!!
This year, we are over the moon to be working with Animal Friends Insurance. They are definitely the bee's knees or even the cat's whiskers of the pet insurance world, plus they have donated millions to hundreds of animal welfare and conservation charities around the world - WOW!! And, through their sponsorship of the competition, we have come together to support an incredible and awesome community-based charity called: Animal Support Angels. They are small, grass roots organisation with a hugely important role of helping other charities and families in need to feed their pets alongside providing vital wellbeing services and we can't wait to get behind them and push them straight into the spotlight!
Prizes:
The Overall Winner of the Comedy Pet Photo Award will win a huge £2,000!
That's right – plain and simple, you'll receive a stack of hard loot, moola, dosh to spend on whatever you like. Perhaps a new collar for the dog, or a spacious tank for the fish or why not treat yourself to a new camera, now that your work has been recognised by a very, very prestigious and awesome photography competition, you definitely deserve it!
Eligibility:
Anyone can enter this competition as long as the law in their country of residence allows them to do so
Copyrights & Usage Rights:
By entering the competition, you agree that we and our sponsors and partners may (but do not have to) reproduce and publish the image(s) at the Awards event, in our annual portfolio book and calendar and in any other media (including, but not limited to websites, social media, magazine and newspaper articles, exhibitions, brochures and flyers) in connection with and to promote the competition.
Theme: