Comedy Wildlife Photography Awards 2018
We are looking for that hilarious, new, dynamic and funny wildlife pho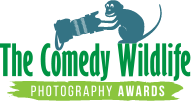 We are looking for that hilarious, new, dynamic and funny wildlife photograph. You have got four months to get out there and take some funny pictures of wildlife. As always we don't allow pictures of domestic animals of any description and also no wildlife in zoos or any other captive environment.
Prizes:
Category winners: If you win one of the categories, you can say that you are an 'Award Winning Photographer', I know and if that isn't enough, you will receive a beautiful certificate.
Overall winner: So now then, onto the Overall Winner – the 2018 Comedy Wildlife Photographer of the Year. Oh yes, it's a massive title and your image(s) will be flying around the world, dazzling millions of people (seriously!).
Eligibility:
Anyone can enter this competition as long as the law in their country of residence allows them to do so and neither they nor any member of their immediate families are employed by the sponsors, or us or are professionally involved in any way with the organisation or administration of the competition.
Copyrights & Usage Rights:
-
Theme: