Dek Unu Arts
Dek Unu Arts publishes and promotes the work of fine art photographers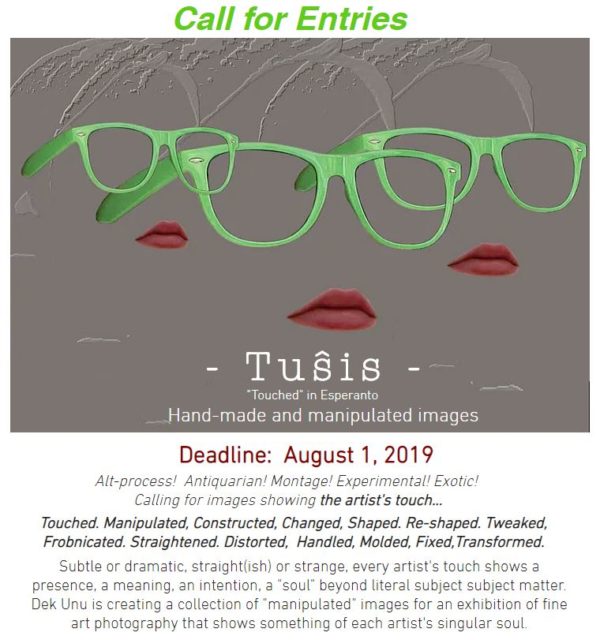 Dek Unu Arts publishes and promotes the work of fine art photographers in all photo genres and techniques, providing opportunities for exhibition and sales as well as resume- and brand-building. Founded by photoartists to provide a respectable and respectful alternative to (and refuge from) more typical commercial outlets, we are committed to keeping costs low and services focused on providing "star-treatment" for our artists. We welcome adventurous and accomplished work from the international photography community.
Helping photo-artists create and publicize a resume of successes is our central mission at Dek Unu Arts. Founded by photo-artists for photo-artists, Dek Unu Arts publishes and promotes quality fine art photography through Dek Unu Magazine and by sponsoring brand-building announcements, exhibitions, and media and educational events.
Prizes:
Sourcing new work with international open call competitions, we advertise winners' work and identities globally, through Dek Unu's newsletter and international network (currently 1.4m contacts/month) and with additional announcements to outlets such as Google News, Bing News, and artweek.com. Winners' images and links are featured in the Dek Unu Gallery online and become part of the gallery's permanent collection on display. For resumes, grant proposals, or other opportunities that are likely in the future, each exhibitor gets a permalink to the exhibit at archive.org which remains live and in play even as Dek Unu and other websites change. Finally the results of each call become a hard-cover, full-color, print volume available for sale online.
Eligibility:
18+ years
Copyrights & Usage Rights:
Artist grants license to publish images for exhibition, collection, and promotion. Copyrights remain the property of the artist
Theme: