Discovery Awards 2023
The finalists will have their work produced and exhibited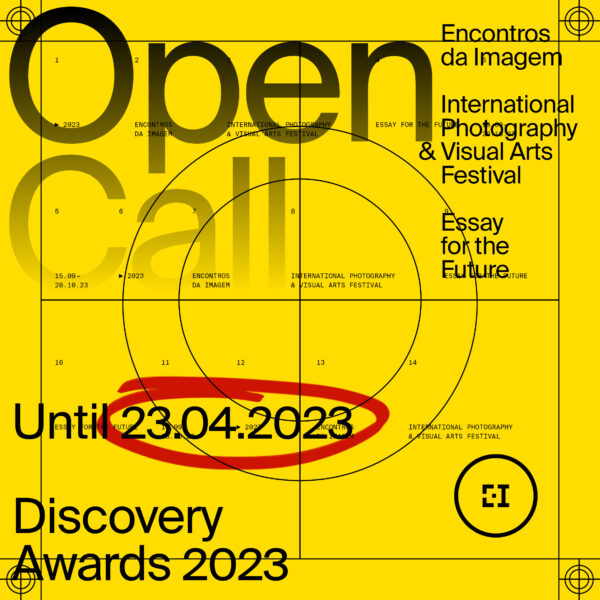 Essay for the Future: Considering the present as we imagine and build the future together.
For the 33rd edition of Encontros da Imagem, we wish to explore the challenges that the world continues to experience and keep up the necessary conversations on topics such as representation, inclusion, environmental sustainability, the politics of everyday life, and the power of change held by social movements. There is an urgent need to stop and listen. While democracy weakens and extremists gain ground in the frenzy of both virtual and real life, we wish to take a step back and think of new forms of organization, ways of life, and creation.
Encontros da Imagem returns to Braga this year between September 15 and October 28, with a new leadership and an approach that looks forward while using the past as guidance. With exhibitions also in Porto, Guimarães, and Barcelos, we hope to democratize photography for its fruition and creation --- and to hear both the individual and collective experience.
Our first open call of the year is open for submissions between March 7 and April 23. Join us in making the future.
Prizes:
The finalists will have their work produced and exhibited at the 2023 edition of the festival;
The finalists will have their work published in the catalog of the 2023 edition;
The winner of the Discovery Awards will be awarded with 1000€ (one thousand euros)
Eligibility:
The Open Call for the Discovery Awards 2023, is open to all artists, professional or amateur, national or international over 18 years old. Artists may participate on an individual basis or as a collective;
Copyrights & Usage Rights:
The images that are part of the selected work, can be used by the festival in order to promote exhibitions and activities in it.
The works selected and produced for the 2023 edition of the festival will become part of the festival's archive at the end of this edition;
In future, the festival may use the produced images for exhibitions (individual or collective), within the festival or in partnership with similar institutions. This will always be communicated to the authors beforehand. Whenever possible, and on a case-by-case basis, the festival will try to ensure that the artist receives a fee for their participation in these exhibitions.
Theme: