Dodho – 17th Call for Entries
Publishing your work with us is simply efective
Deadline: 31 May 2021
Entry fee: 10€ to 60€
Submit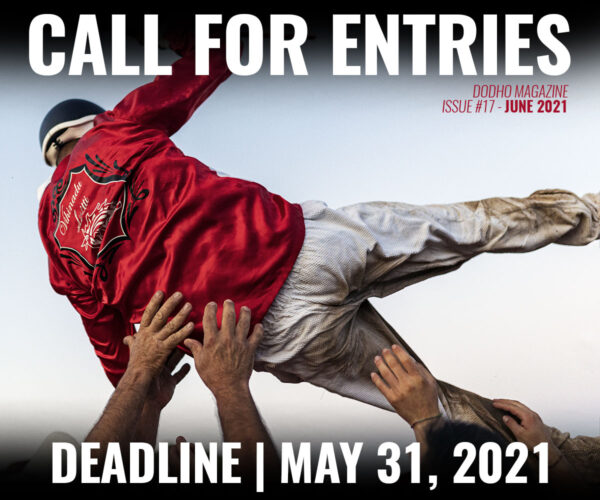 For its 17th edition, Dodho Magazine is looking for six photographers from around the world to be featured in its new print edition. All you have to do is complete the registration form and upload your amazing projects or images. Be part of this new edition that will be presented next March. Read on to get a clearer idea of the benefits that publishing your work in our print edition can bring you.
The printed edition of Dodho Magazine is an incredible promotional tool focused primarily on a professional audience. In its pages, we promote the most talented photographers, moving away from the fleeting success provided by social networks, far from the mere counting of likes and the sum of followers.
Dodho Magazine's printed edition offers the photographer a real and more selective recognition of their work, understanding that the professional development of a photographer must be based on something substantial and lasting; allowing their growth in the right direction.
The print edition of Dodho Magazine aims to give photographers the consideration their work deserves through an elegant and carefully designed medium in a purely digital age.
After 16 editions and more than 96 published photographers, our print edition has proven to be a simply effective promotional channel. The photographers published on our pages are viewed by thousands of people of interest to you.
Undoubtedly, your talent is unlimited but surely not your resources and your time. For this reason, it is necessary that you focus clear actions towards your goals and learn to strengthen your efforts to achieve your objectives. Your participation in this new call is an opportunity that you should not let pass. Remember that whatever path you want to take, it begins with a first step.
Prizes:
Our mission is focused on discovering the best talent, promoting it and spreading it around. In this way, Dodho Magazine is distributed to the main galleries, agencies, festivals and industry professionals. It is also distributed to a wider audience through our website and can be downloaded in digital format from other associated websites.
Through our magazine, you will get your work to reach expert and professional hands directly and in record time. From Barcelona to Los Angeles, from New York to Dubai, our magazine will offer you new professional opportunities in the short, medium and long term. Our printed edition acts as a lever, multiplying efforts and focusing all possible resources into an incredible edition.
Eligibility:
All
Copyrights & Usage Rights:
The images and projects copyright will be exclusively and at all times of the photographer and author of the project. The images will use strictly in relation to the Dodho prizes and will not be used for other purposes than the direct promotion of their authors. The images may not be used in any case by any third party without the express consent of the author and by written request, which will be sent to the author by email. Dodho is granted the right to publish the best works received in its online version and subsequent promotion in its social networks, always safeguarding authorship and copyright.
All participants to Call For Entries, by virtue of their presentation, believing the images and projects presented are their own work and there has been no infringement of copyright. Dodho is not responsible for any infringement of rights may arise during the selection process and subsequent display of any image. The entrant is responsible for obtaining, prior to submission of the photograph, any and all releases and consents necessary to permit the exhibition and use of the photograph. The projects will be judged by a professional and relevant jury in the photography field, with no flare and none of the author data. The jury's decision will not be appealable and will be definitive.
Theme: