Dodho Call For Entries 10
SEND US YOUR BEST SHOTS AND BE A PART OF OUR NEWEST EDITION. TOGETHER
Deadline: 1 December 2019
Entry fee: 10€ to 60€
Submit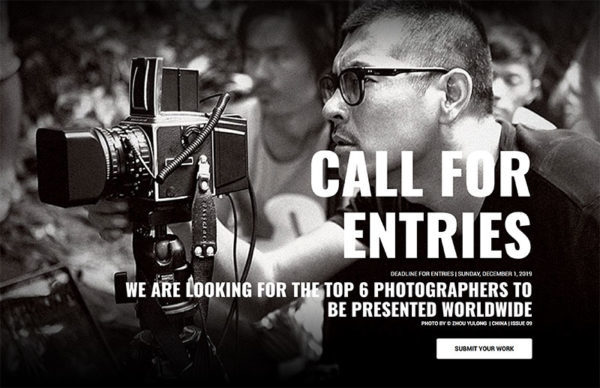 Keeping every process transparent, we provide a unique way to connect you with your audience. All you have to do is to fill the registration form and upload your portfolio. You have to share eye-catchy images for the magazine cover. Let the viewers indulge in your art. You can choose any category from conceptual to documentary photography, it's your call. Capture the city life or tell a beautiful story, this is the perfect opportunity to bring out your hidden talent and fascinate the world.
Explore, Click, and Enthrall! Our panel of directors from the top galleries and festivals are eager to get amused with your impressive photography for this year's edition.
Dodho Magazine intends to open avenues for creative-heads who can indulge viewers with their amazing skills. It's a window to showcase your talent and interact with the experts of industry. We let you surpass all the struggles and obstacles and jump on the road to unending success. You can widen your professional reach and welcome prosperity by displaying your art through our edition.
Our Dodho Edition - An Exclusive Chance To Bring Out Your Creativity!
Since the first edition to date, Dodho Magazine has always been the ultimate source to introduce the most fascinating talent and highly creative photographers. We've been a bridge to bring global-audience and professional photographers closer. Working on a diverse set of projects, we have contributed incredible artwork where each shot depicts a story to amuse.
Presenting flawless clicks to the maestro of the industry, we have opened some massive opportunities for the young talent. With our dedication and a broad vision, our magazine editions are renowned around the world. We pride in working with some of the notable photographers including Laurent Baheux, Stefanie Minzenmay, Maria Svarbova and Julia Fullerton Batten.
We are honored to work with over fifty photographers who have achieved great success through our publishing. We most humbly thank each one of the promising photographer who has made us contribute engaging photography to industry.
Let The World Know What You've Got
We know the struggles you face to gain recognition in such a competitive time. Therefore, we let you untapped your creativity simply by signing up to our platform. The experts at Dodho Magazine will review your work giving you the opportunity to upload it in our online magazine along. Each portfolio will be displayed on our official social media platforms as well. On the said date, our professionals will finalize 6 best photographers whose work will be published in our print edition. So, in case you couldn't make your way into the shortlisted candidates, you can still enjoy an enhanced exposure through our online magazine. Wouldn't it be great?
Prizes:
The printed editions, circulating in every renowned gallery, festivals, and places, are dipped in creativity that promotes the art. From the magazine cover to its formatting, everything is designed to capture the attention instantly. Each page pours out an enticing story dipped in the appealing talent of our chosen photographers. It's the best platform to showcase your capabilities and get recognized by the experts.
We will be publishing our December edition once we are through the shortlisting and finalizing phase. We will keep you posted and all the participants who have delivered their work in October and November will be communicated in the first week of December.
Eligibility:
All
Copyrights & Usage Rights:
All participants to Call For Entries 10, by virtue of their presentation, believing the images and projects presented are their own work and there has been no infringement of copyright. Dodho is not responsible for any infringement of rights may arise during the selection process and subsequent display of any image. The entrant is responsible for obtaining, prior to submission of the photograph, any and all releases and consents necessary to permit the exhibition and use of the photograph. The projects will be judged by a professional and relevant jury in the photography field, with no flare and none of the author data. The jury's decision will not be appealable and will be definitive.
The images and projects copyright will be exclusively and at all times of the photographer and author of the project. The images will use strictly in relation to the Dodho prizes and will not be used for other purposes than the direct promotion of their authors. The images may not be used in any case by any third party without the express consent of the author and by written request, which will be sent to the author by email. Dodho is granted the right to publish the best works received in its online version and subsequent promotion in its social networks, always safeguarding authorship and copyright.
Theme: