Dodho Call For Entries #14
An amazing promotional tool designed to expose your work worldwide
Deadline: 31 August 2020
Entry fee: 10€ to 60€
Submit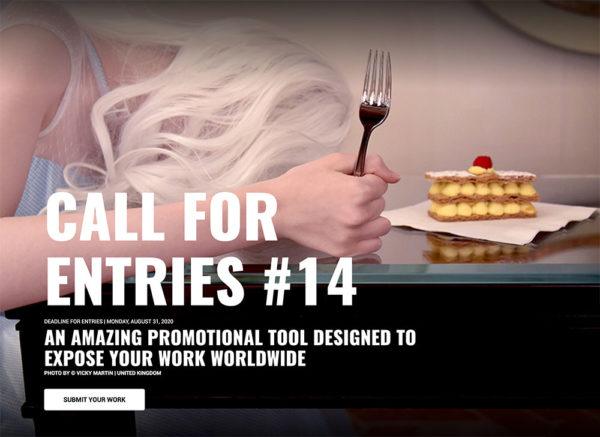 Dodho Magazine is pleased to announced the new call for the photographer's selection from all over the world that will be presented in an exceptional edition next September.
Through our printed edition, our goal is simply to connect you with a professional audience that can give your career as a photographer, new opportunities for change and growth. Our print edition is designed to act as a powerful promotional tool capable of focusing and spreading your career among the right people in the shortest possible time.
To be part of this new edition, all you must do is complete the registration form and upload your projects or images. If you still are not convinced read on to get a clearer idea about the benefits the presentation of your work in our printed edition offer.
A REFERENCE EDITION
In a world full of incredible images, promoting your work can turn into a real crazy race to nowhere. It is important to know how to focus your efforts and that all your workflows in the same direction in search of your goals. For this reason, we saw the need to create a unique instrument, a promotional tool focused on a specific objective, which was real, authentic, in format and printed, and away from noise and ephemeral recognition by social networks, and was also It was necessary that it had a very defined style, that it fulfilled our main objective and that it could be presented and distributed in the main galleries, agencies and festivals around the world.
Five years ago, since we launched our first print edition, it has become a reference magazine, a bridge connecting the most talented photographers with the best experts in the world photographic industry. Among our pages, we have been lucky and honoured to publish photographers such as Julia Fullerton Batten, Maria Svarbova, Laurent Baheux, Michiko Chiyoda, Larry Louie, Gili Yaari, Thomas Alleman, Sandro Giordano, Stefanie Minzenmay. They are all just one example of the 65 amazing photographers featured to date.
BUILDING UP YOUR OPPORTUNITIES
New technologies offer the chance to show your work to the world like never before anyone had the opportunity to have it. But at the same time getting our work to reach the right hands and become something productive is increasingly difficult. The accumulation of followers and likes towards our work allows us not to think about the few real chances of success offered by some platforms. Getting the visibility that our website deserves is also a complicated and slow task. The print edition of Dodo Magazine creates new opportunities for your work, focusing and showing it to the right people and in the right places in record time. Just start now creating new opportunities for your work, unique circumstances that build direct paths to your goal.
LET THE WORLD KNOW WHAT YOU HAVE GOT
The experts at Dodho Magazine will review your work giving you the opportunity to upload it in our online magazine along. Each portfolio will be displayed on our official social media platforms as well. On the said date, our jury will finalize 6 best photographers whose work will be published in our print edition. So, in case you couldn't make your way into the shortlisted candidates, you can still enjoy an enhanced exposure through our online magazine. Wouldn't it be great?
Prizes:
The printed editions, circulating in every renowned gallery, festivals, and places, are dipped in creativity that promotes the art. From the magazine cover to its formatting, everything is designed to capture the attention instantly. Each page pours out an enticing story dipped in the appealing talent of our chosen photographers. It's the best platform to showcase your capabilities and get recognized by the expert.
Eligibility:
All
Copyrights & Usage Rights:
CONDITIONS & LICENSES
All participants to Call For Entries 14, by virtue of their presentation, believing the images and projects presented are their own work and there has been no infringement of copyright. Dodho is not responsible for any infringement of rights may arise during the selection process and subsequent display of any image. The entrant is responsible for obtaining, prior to submission of the photograph, any and all releases and consents necessary to permit the exhibition and use of the photograph. The projects will be judged by a professional and relevant jury in the photography field, with no flare and none of the author data. The jury's decision will not be appealable and will be definitive.
COPYRIGHTS & USAGE RIGHTS
The images and projects copyright will be exclusively and at all times of the photographer and author of the project. The images will use strictly in relation to the Dodho prizes and will not be used for other purposes than the direct promotion of their authors. The images may not be used in any case by any third party without the express consent of the author and by written request, which will be sent to the author by email. Dodho is granted the right to publish the best works received in its online version and subsequent promotion in its social networks, always safeguarding authorship and copyright.
Theme: