Drone Awards Photo Contest 2018
The competition is open to the aerial photography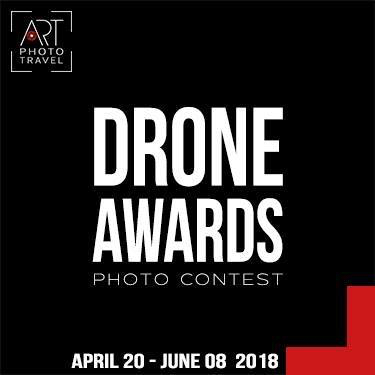 Ever since its inception, aerial photography has contributed greatly to our knowledge of the world around us, finding its application in archaeology, geology, geography and wider landscapes, environmental, rural and urban studies.
Recognizing its creative potential, a variety of artists incorporated aerial imagery into their work sets the scene for a century of elevated viewing.
Once aerial photographers started deliberately seeking out, framing and creating patterns, rather than creating work that simply serves documentary purposes, they have broadened the field of aerial photography to aerial art.
The competition is open to the aerial photography whose platforms include fixed-wing aircraft, helicopters, unmanned aerial vehicles, balloons, blimps and dirigibles, rockets, kites, and parachutes.
Prizes:
The participant with the highest scoring image will be endowed the title of "Drone Photographer of the Year 2018" and will receive the amount of €500. Also, there will be a winner for each category. The winners will receive the Pangea Prize Christal statuette during the Awards Ceremony which will be held in Siena in October. The Award winning images will be showcased in Siena at the "Beyond the Lens" exhibition.
Eligibility:
Entries are open worldwide and photographs from any aerial platform are welcome.
Copyrights & Usage Rights:
Each participant owns the copyright of the submitted images. The participant certifies the work as its own. The entrant allows the contest organizers to use, free of charge, the entered images for promotional purposes related to the photo contest, as a catalog, calendar, and website, unless specifically stated otherwise on the registration form by the participant.
No photographs entered for Drone Awards will be offered for sale or used by any of the Drone Awards sponsors for any commercial or another purpose other than for the marketing of Drone Awards, the competition and/or the exhibition and catalog without the approval of the photographer.
Theme: