2019 EAAFP Waterbirds Photo Contest
Flyways - Connecting People and Migratory Waterbirds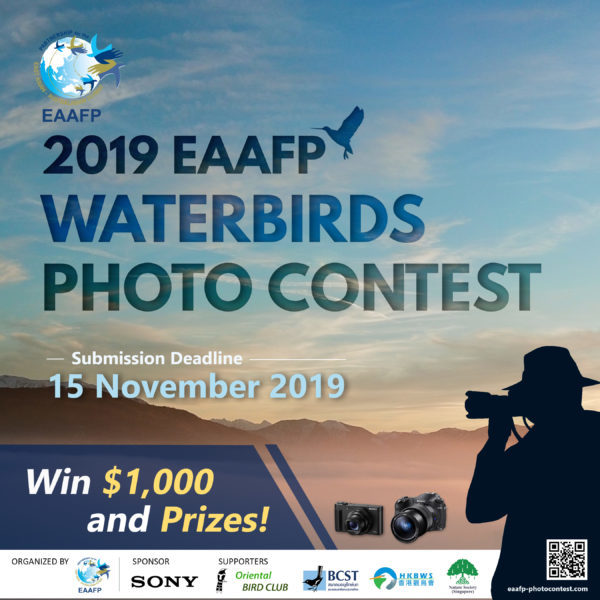 2019 EAAFP Waterbirds Photo Contest aims to raise awareness of importance of the conservation of migratory waterbirds and sustainable management of their habitats in the East Asian-Australasian Flyway (EAAF) region among the general public, Flyway Network Site managers, and wildlife photographers through the photography contest. By joining this photo contest, you can contribute to show the beauty of the nature of waterbirds and their habitats including wetlands in this flyway to the world. Show us your best shots and win USD1,000 cash & prizes!
To assist with judging, entrants are requested to define the themes of their photos to classify and understand the concept of the submitted photos. The themes include Waterbirds, Wetlands, People, Scenery and Others. Multiple selection is possible.
The contest is open to anyone inclusive of all ages, genders, and nationalities.
· Youth: Under 18 years
· Adults: 18 years and above who are not EAAFP site managers.
· EAAFP Site Managers: Site managers of EAAFP Flyway Network Sites (FNS) should choose their application category of EAAFP Site Manager, not the 'Adults' category. The list of FNS is found on EAAFP website.
(https://www.eaaflyway.net/about-us/the-flyway/flyway-site-network)
· SONY RX10 Series Users : Entrants who used SONY RX10, SONY RX10M2, SONY RX10M3, SONY RX10M4 for taking their photos need to choose both Sony RX10 category and one other category. Possible choices are:
Prizes:
Each winner will receive the following:
· Grand Prix: Award Certificate and USD 1,000
· Youth Category: Award Certificate and Sony HX99
· Adults Category: Award Certificate and SONY RX10M4
· EAAFP Site Managers Category: Award Certificate and SONY RX10M4
· Sony RX10 Best Image: Award Certificate and USD 1,000
· Other Rewards*
i. Inclusion in the EAAFP photobook on migratory waterbirds and habitats
ii. Inclusion in the 2020 EAAFP calendar
iii. Recognition in EAAFP website and social media channels
iv. Recognition in the Sony Asia social media channels
*Other rewards may change subject to the situation of the organizer.
Eligibility:
The contest is open to anyone inclusive of all ages, genders, and nationalities.
Copyrights & Usage Rights:
All photos submitted by the entrant remain the sole property of the entrant. However, by entering the Contest, the entrants grant a perpetual license to EAAFP to use the submitted photograph(s) for promoting the aims of the EAAFP and reporting purpose in digital and printed format. All photo used will be acknowledged by the name of the entrant. Copyright of all images captured with the loan set of Sony cameras through the event of the Sony sponsored workshops belongs to Sony. In this case, the photographers will be acknowledged should Sony decides to use any of the images captured in promoting their brand. The examples of the promotion include but not limited to:
· EAAFP Waterbirds Photo book
· EAAFP Waterbirds Photo gallery
· EAAFP Calendar
· EAAFP Photo Exhibition
· EAAFP Educational materials that aim to help people protect migratory waterbirds and their habitats
· Sony RX10M4 promotion material, such as photobook, product catalogue.
Theme:
Nature Culture Environmental Landscape People Travel Wildlife Multi-categories