Embracing Our Differences 2019
$1,000 for "Best-in-Show Adult"
Deadline: 8 October 2019
Entry fee: Free
Submit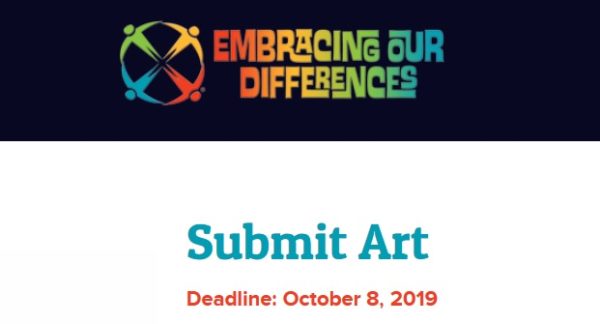 Diversity is at the heart of what it means to be an artist.
Art is a powerful tool to evoke social change. Without uttering a single word, artists can enlighten, educate and affect change around the world. Embracing Our Differences invites you to participate in creating a world where differences are embraced and individuality is celebrated. Become a part of this exciting change through your visual art submission to the annual Embracing Our Differences international juried competition.
Featuring 45 billboard-size images, each work of art is created by local, national and international artists reflecting their interpretation of our theme "enriching lives through diversity and inclusion."
The 2020 exhibit will be on for display January 18 - April 5, 2020 at Bayfront Park in downtown Sarasota.
Prizes:
$1,000 for "Best-in-Show Adult"
$1,000 for "Best-in-Show Student"
$1,000 for "People's Choice"
The 2020 exhibit will be displayed beginning January 18, 2020 at Bayfront Park in downtown Sarasota.
Eligibility:
Artists, professionals, amateurs, students – everyone can participate. National and international submissions are encouraged. There is no submission or entry fee and there is no limit on the number of submissions.
Copyrights & Usage Rights:
You retain ownership of your art. However, by your submission, you irrevocably grant to Embracing Our Differences a non-exclusive license to your work for display, educational and promotional purposes.
Theme: