Expired Film Day
Submit images on expired film shot March 15 for prizes
Deadline: 15 April 2016
Entry fee: Free
Submit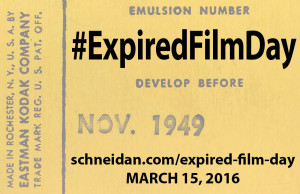 Expired Film Day celebrates the joys of using film whose Use-By date has (preferably long-since) passed. One of the particular pleasures of being a film-using photographer in these modern times is the abundance of expired-but-still-probably-pretty-good film on the market, found in grandparents' attics or at thrift stores, or sourced from the freezers of pros who've gone digital.
After you use your expired film on March 15 (and starting that day) you can submit up to three (3) images to our shared gallery for a chance to win a variety of fun prizes. Make sure to pick your favorite!
Each image you submit needs to have been taken on March 15. Submissions will be open for an entire month — from March 15 through April 15 — so you should have plenty of time to process and scan your film.
Also: don't process the crap out of your stuff digitally. Removing dust and slight adjustments to exposure and color (consistent with typical darkroom processes) are fine.
Prizes:
Variety of prizes offered by organizers and sponsors.
Eligibility:
Open to any film photographs taken on March 15, 2016.
Copyrights & Usage Rights:
Limited, non-exclusive rights granted for display of submitted images in shared gallery online, social media and for promotion of future events.
Theme: