Eyes of the World
Eyes of the World | Mobile Photography Portraits Exhibit
Deadline: 11 May 2017
Entry fee: Between $15 for one image & $100 for 15 images
Submit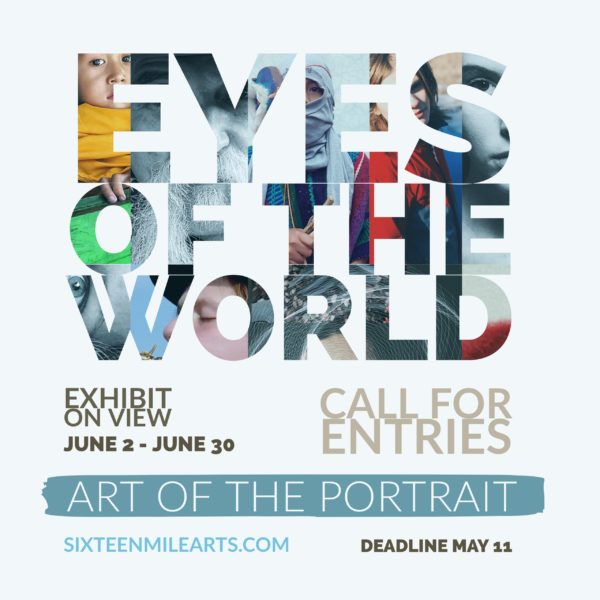 Sixteen Mile Arts photography gallery seeks a broad range of mobile phone & tablet device created Portrait & People photography from established and emerging mobile photographers for Eyes of the World held June 2 – June 30, 2017. Juried by Sixteen Mile Arts curator/owner Daniel Berman.
All mobile photo and tablet created images are welcome.
All entries will be reviewed and judged on originality, technical excellence, composition, overall viewing impact, and artistic merit.
Sixteen Mile Arts invites mobile photographers from around the world working in all styles and schools of thought to submit portrait photographs. Experimental and mixed techniques are welcome. Self-Portraits are welcome. Artwork must be photography-based. If in doubt please feel free to contact us to clarify.
Juror's Review Criteria in Order of Importance:
Does the image communicate the artist's unique vision?
Tell a story about a person? Express emotion?
Interact with the viewer?
Does the image show us something special or thought-provoking about the human condition?
Did the artist exhibit technical control in image capture and post-processing?
Ask yourself *why* an image stands out among many.
Entry Deadline: May 11, 2017 11:59pm PST
Notice of acceptance to exhibit: On or prior to May 23, 2017
Print service: Sixteen Mile Arts pays for prints.
Opening reception: Friday June 2, 2017
Show closes: June 30, 2017
Fees
$15 for one image, $30 for three images, $50 for six images and $100 for 15 images.
Prizes:
Acceptance into the print exhibit | opportunities for fine art sales | exposure to collectors
Eligibility:
worldwide
Copyrights & Usage Rights:
Copyright
Each artist retains 100% copyright to his/her own images. Artist's recognition is provided with any use for marketing/promotion of the exhibit.
Usage Rights
By submitting images you are giving Sixteen Mile Arts the right to use the images for the purpose of marketing the exhibition and for reproduction online. Artist's recognition is provided with any use. Submitting artists will be added to the MPA email subscriber list. They may opt out using a link on each email at any time.
Theme: