Fallout 2022
"Fallout" - Environmental chages
Deadline: 29 April 2022
Entry fee: Free
Submit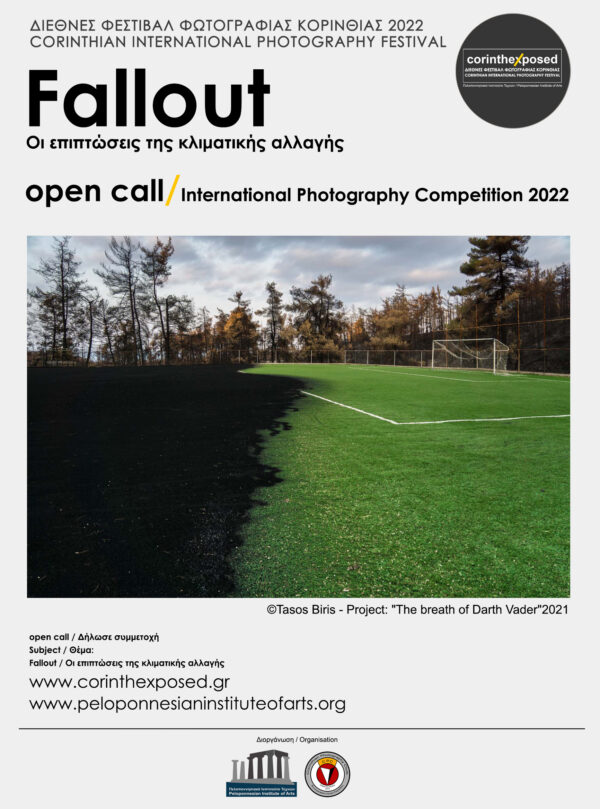 Our modern way of life has a serious impact on the environment. The survival of this planet depends to a large extent on our behavior and choices, but unfortunately nothing seems to change.
Phenomena such as frequent and intense droughts, storms, heat waves, high sea levels, melting glaciers and warming oceans have a direct impact on all living things. The environmental changes are enormous in every aspect of life, but also affect several infrastructures of our communities all around the world. As climate change occurs, the intensity of dangerous weather phenomena worsens, and the direct and indirect consequences seem extremely serious.
Climate change affects us all! Photography captures the signs of this change that helps us observe their effects on everyday life. It also helps us acknowledge them in order to predict future harmful situations.
However, photography inspires us all by creating several emotional reactions through images. It also contributes substantially to the creation of "empathy" mechanisms and generally sensitizes us to the future of our planet! Additionally, photographs of our environment and everyday life may help us change our common perceptions of environmental changes and potentially have the power to make us all think constructively.
The Corinthian International Photography Festival invites photographers around the world to capture the images of climate change concerning the personal, social, environmental areas of our lives, as we face these great and extraordinary ecological challenges.
Anastasis Protopapas MA / BA Art Director of Corinthian International Photography Festival 2022
Note: The photo that accompanies the publication belongs to the photographer Tasos Biris
Project: "The breath of Darth Vader", Title: "Burned soccer field at Vassilika North Evia", ©Tasos Biris, August 2021
Prizes:
All the winning photographs will be selected by the judging committee and will be exposed at one of the most beautiful museums in Greece.
Eligibility:
Anyone 18+ years old.
Copyrights & Usage Rights:
Each participant holds the copyrights of his work.
Theme: