Frame the Flow
Frame the Flow
Deadline: 30 June 2017
Entry fee: Free
Submit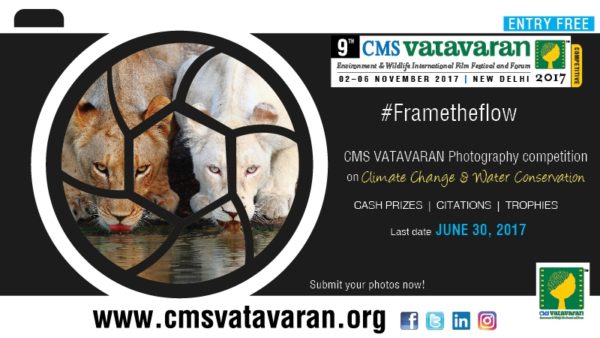 The 9th competitive CMS VATAVARAN international environment and wildlife film festival and forum, is scheduled to be held on November 2-6, 2017 at New Delhi. The theme of this edition of the festival is "Conservation4Water" and it will delve into the issues of climate change and water. Films and Forums on the inter-connectedness of climate change and water, water struggles in a world dealing with global warming, climate variability, food and health insecurity, desertification, biodiversity loss, and environmental damage will be showcased in this festival.
As a run up to this festival, this photo competition is an opportunity to engage in this crucial contemporary issue that all of us face daily.
Prizes:
All winners will be awarded at the gala Awards Night of the 9th CMS VATAVARAN scheduled to be held on November 3, 2017 in New Delhi. The award includes trophy, citation and cash prizes.
Eligibility:
The entrant should be an Indian citizen above the age of 14.
Copyrights & Usage Rights:
Submission of entries implies that each entrant hereby irrevocably and unconditionally grants to CMS, and assigns the right (but not the obligation) to use entrant's submission in whole or in part, to reproduce, distribute, display and create derivative works of the entrant's submission (along with a name credit) in connection with the competition and the marketing, advertising and promotion of the CMS VATAVARAN film festival, in any media now or hereafter known, for no additional compensation other than the prize money (if awarded).
Theme:
Nature Environmental Seascapes Wildlife Underwater Black and White