Global Wind Day 2019 Photo Contest, "Future Wind"
€1,000 cash prize
Deadline: 5 June 2019
Entry fee: Free
Submit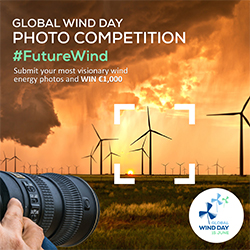 The photo competition will close on 5 June 2019. Winners will be announced on Global Wind Day – 15 June 2019.
We need to act now to stop climate change!
We need to protect the environment and save the planet for future generations. Wind energy can help!
So how can we achieve this brighter future together?
We can do this by changing our electricity and fuel supplies from toxic fossil fuels to clean and renewable sources like wind energy. Wind energy is the cleanest and cheapest source of electricity generation. Higher shares of wind energy in our energy mix means lower CO2 emissions.
More and more people are taking action. So what can you do today?
One positive step you can take is to support more clean wind energy. This Global Wind Day we want to tell the world that wind energy can slash emissions, improve air quality and create thousands of jobs. That wind energy is the energy for now and the future.
As part of the Global Wind Day activities, WindEurope and the Global Wind Energy Council (GWEC) have launched a global photo competition: "Future Wind."
Creativity, content, composition and technique as well as a compelling story behind your photograph are the key criteria for the judges.
There are 4 categories People and Wind, Working in Wind, Beautiful Wind and Beyond Wind, each with a €1,000 cash prize.
Prizes:
There are 4 categories People and Wind, Working in Wind, Beautiful Wind and Beyond Wind, each with a €1,000 cash prize.
Eligibility:
Open to anyone over 18.
Copyrights & Usage Rights:
Copyrights
The photograph does not infringe upon the copyrights, trademarks, contract rights, or any other intellectual property rights of any third person or entity, or violate any person's rights of privacy or publicity, and your photograph does not include:
Trademarks owned by third parties.
Copyrighted materials owned by third parties.
Names, likenesses or other characteristics identifying celebrities or other public figures, living or dead.
Entries in which you have purchased or secured the rights to use stock images.
Usage Right
By entering any image, the entrant explicitly and freely grants the promoter the non-exclusive right to reproduce such image for any purpose at any time in any media. For example, the promoter may use the images submitted in online articles, reports or marketing activities, in perpetuity.
The entrants consent to the use of their images in any publicity carried out by the promoter without further compensation in perpetuity.
Theme: