Gomma Photography Grant 2015, early bird deadline.
The well renonwed Gomnma Photography Grant now in its second year.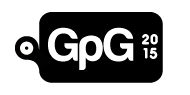 Gomma Photography Grant is a new grant for photographers now in its second year and engineered by Gomma. With a respectable jury formed by some of the most renowned personalities of the photography world, this grant will not only give a cash prize but it will also generate an enormous amount of international exposure to the winners and each of the shortlisted photographers.
The prizes are: one thousand euros cash prize, massive international exposure, publication in Gomma Magazine, Gomma websites, social network and its media partners.
We, at Gomma, are fully aware of the costs that photographers have to face on a daily basis so we decided to come up with a new grant for photographers.
The Grant is now in its second year.
Receiving this grant will also expose your work immensely to a wide international audience. Last's year winner Ksenia Yurkova has published her first photo book Letters for Two, and No-one Else, exhibited at the Grand Prix Fotofestiwal, Athens Photo Festival and Kolga Tbilisi since winning the 2014 Gomma Grant. Furthermore, she has been widely published in magazines such as GUP, Gomma and doc! photo magazine.
This year's Jury:
Amanda Lo - Zen Foto.
Manager of the Zen Foto Gallery, Tokyo.
Andy Adams - FlakPhoto.
Founder, Editor and Publisher of FlakPhoto. Host of The FlakPhoto Network (FPN) and curator of Making Pictures of People.
Colin Pantall - Lecturer.
Senior Lecturer at the University of South Wales, UK and a regular writer for the British Journal of Photography and other publications such as The International Herald Tribune, The Independent, Aperture Magazine, Gomma Magazine and Photo-Eye Magazine.
Christian Caujolle - Critic.
Internationally acclaimed and renowned critic. He is also the founder of Agence VU, a Prix Pictet nominator and a regular writer for publication such as The Internazionale and L'Oeil de la Photographie.
Gilou Le Gruiec, Gallerist at Agence VU Gallery.
Gilou has been working at VU since 1991 and at the Gallery VU, since its creation in 1998. Curating exhibitions at VU gallery or outside, she is also responsible of the sales.
Giovanni Picchi - LUZ Agency.
General Manager at LUZ Agency and LUZ Academy.
Grzegorz Kosmala - doc! photo magazine, DEBUTS.
Founder, publisher, and editor-in-chief of doc! photo magazine and contra doc! Creator of the DEBUTS project and coordinator of the 7th and 8th editions of BZ WBK Press Foto.
Heidi Romano - Photobook Melbourne.
Festival Director at Photobook Melbourne. Curator and designer at 'Unless you will'.
Laura Valenti - Photolucida, Critical Mass.
Outreach Director of Photo Lucida and Critical Mass photo contest.
Luca Desienna, Gomma.
Head Director of Gomma Books ltd and the Chief Editor of the MONO trilogy. He regularly takes part in photo contests jury, such as the Daylight Awards, DEBUTS, Photolucida and the Lugano Photo Festival contest.
Peggy Sue Amison, East Wing.
Artistic Director at East Wing Gallery, Dubai, and a sought-after juror for renowned contests such as Tokyo International Photography Competition, Daylight Photo Awards, in addition, she is also a Board Member of the Belfast Photo Festival.
Prizes:
The prizes are: one thousand euros cash prize, massive international exposure, publication in Gomma Magazine, Gomma websites, social network and its media partners.
Eligibility:
Open to anyone.
Copyrights & Usage Rights:
GPG2015 COPYRIGHT
The photographer must be the sole author and owner of the copyright of the photographs entered in to the competition.
Gomma Books Ltd respects photographers rights and does not claim copyright for the images you submit to this contest. Photographers will retain full copyright in each entry.
Theme: