Good health: where will it take you?
How are vaccines and travelling connected? Share your photo and story
Deadline: 31 July 2016
Entry fee: Free
Submit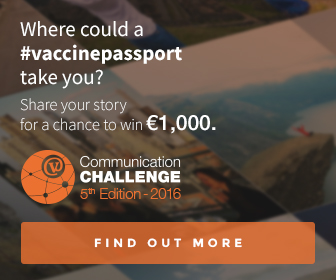 Vaccines give us a world of possibilities. They're our passports to safe, healthy travel. So for this year's Vaccines Today Communication Challenge, we're asking for photos and stories of how vaccines have changed the way we live and travel. And there's a €1,000 prize up for grabs, too.
Prizes:
€1,000 for the winner, €500 for second place, €250 for third place
Eligibility:
Europe
Copyrights & Usage Rights:
The transfer and assignment of all intellectual property and other property rights includes but is not limited to the transfer and assignment of the right to reproduce, adapt, translate, modify, publish, display, edit, market, store, distribute, have distributed, communicate, transmit, have transmitted, rent, lend, make available the Photo to the public, partially or completely, promote, create derivative works based upon and use the (winning) Photo, in each and any way, whether private or public, for internal and external use. The transfer and assignment of rights is valid for promotional, advertising, editorial, merchandising or other commercial purposes as well as for non-commercial purposes, final for each and every form of exploitation and for all countries, in the most extensive way possible as permitted by law, without limitation in time other than the limitation provided by law for the respective rights.
The Entrant agrees that the photo submitted in accordance with the Rules of Contest, as well as any components thereof, such as the graphic, images and textual elements transferred and assigned to Vaccines Europe. Such transfer and assignment implies that the exclusive property of the Photo belongs to Vaccines Europe and that all intellectual property rights and other property rights on the Photo are immediately and exclusively transferred and assigned to Vaccines Europe as of the date of the submission of the Photo.
Theme: