Grant PhotOn Festival 2017
Grant PhotOn Festival, a shuttle to young talents of phojournalism
Deadline: 31 March 2017
Entry fee: 15€
Submit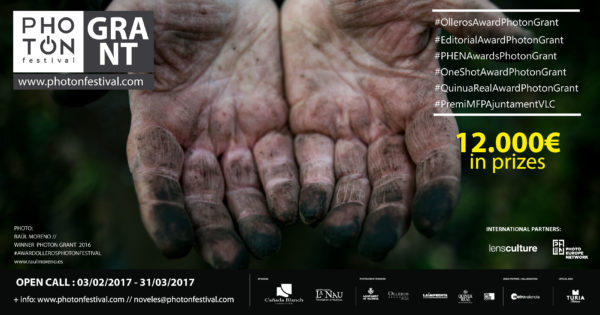 From it's creation back in 2011, the PhotOn Festival has made an effort to dedicate a very important part of its program to support the works done by the novel authors, photographers who are not known by the public, through the PhotOn Grant, and which covers different activities such as the Portfolio Reviews of the 10 finalists and their Multimedia Screenenings.
PhotOn Festival Grant 2017 has become an opportunity to reach the professional level and the festival wants that each step brings the participants closer to their goals. That is why, to support the best work from the germ of the grant, an international professional jury will see each and every one of the works submitted.
Maria Mann, head of international relations for the EPA agency, recent member of the World Press Photo jury team and Alexander Strecker, managing editor of LensCulture, one of the world's most prestigious publications on photography, will be the ones in charge of selecting the 10 finalist works of 2017 after reviewing all the candidacies presented to the contest.
Prizes:
#OllerosAwardPhotOnGrant: The prize will be a cash contribution of 2,000 euros made by the firm Olleros Abogados, SLP.
#EditorialAwardPhotOnGrant: The winner of the previous prize will also receive the edition and production of a book printed by La Imprenta CG, which will be part of the collection of books edited by PhotOn Festival.
#PHENAwardsPhotOnGrant: Photometria Festival (Ioannina, Greece) will select one of the finalists to be part of its 2018 edition with an exhibition.
New #QuinuaRealAwardPhotOnGrant:
On the occasion of Valencia as World's Food Capital in 2017 PhotOn Festival has created a specific prize for the best documentary report on the food situation in the world. Quinua Real, the sponsor of the prize, will award with 1,000€ a project that will raise awareness of the importance of food and the risk situation in which we live and feed.
New #OneShotAwardPhotOnGrant:
The One Shot Hotels chain, whose philosophy has art and photography as a common link, will award with 500€ to one of the final works of the PhotOn Grant as part of its effort for artistic patronage linked to photography.
New #PremiMFPAjuntamentVLC:
With City Council of Valencia collaboration, the objective of this call is to recognize and disseminate the work of professional photojournalists from Comunidad Valenciana. And put in value his professional commitment over a year and his ability to transmit with his images the important changes that have taken place in Valencia throughout 2016.
Eligibility:
Novel Authors / Professionals (Please, read the rules of each Prize in: http://www.photonfestival.com/grant-photon/?lang=en)
Copyrights & Usage Rights:
For the purposes of public communication of photography, including making available online, award-winning author assigns such diffusion rights to Olleros Abogados, SLP and PhotOn Festival under non-exclusive and illimited period of time for promotional use with 4 images.
Theme: