"High key" Photography Contest by Fomunity
Bring the light to the limit.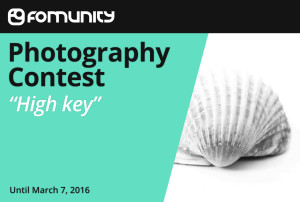 Contest rules
=============
Terms and Conditions
--------------------
These contest rules are an expansion of the Fomunity Terms and Conditions of Use. If there is any contradiction between them, the terms and conditions defined in these rules have precedence.
Taking part in this contest implies that you accept the Fomunity Terms and Conditions of Use, all of the contest rules and regulations, and any reasonable changes introduced by Fomunity.
Competitors
-----------
This contest is open to all professional and amateur photographers from around the world.
Subject
-------
High key. Technique in which a lot of light is used to fill the entire frame, causing positive feelings of peace, happiness and tenderness.
Works
Each competitor can submit up to 3 photographs, none of which can have won a prize in any other competition (Fomunity or otherwise) and to which they must hold the intellectual property rights.
The photographs must be at least 1.000 pixels and no more than 10.000 pixels, in JPG (JPEG) format, and can be no larger than 10 MB.
Only photographs submitted via the contest page: https://fomunity.com/contest/ will be accepted.
To encourage originality, submitted photographs will not be published until the entry deadline has passed.
To help jury impartiality, the authors of each photograph will not be displayed until the jury has made its decision.
Dates
-----
You can submit photographs from January 25, 2016 at 00:00 until March 7, 2016 at 23:59.
The jury's decision will be published on the contest webpage on March 14, 2016.
Fomunity uses Central European Time, and adjusts to Central European Summer Time in season.
Jury
----
The contest jury will comprise the following IEFC teachers:
Quim Farrero (www.quimfarrero.com)
Fina Lunes (www.finalunes.com)
Jöel Ventura (www.joelventura.com, www.fotografos.pro/joelventura)
The jury's decision is final.
Prizes
------
There will be only one overall winner, who will receive a prize of €150.
Comments
--------
Works that infringe people's dignity or human rights will not be accepted.
Works featuring any over-texts, watermarks or any frame or indication of the author's identity (in the photograph, title or description) will not be eligible for a prize. The jury will reject any photograph that fails to comply with these rules.
Competitors are liable for any image rights or civil liability suits.
Any situation not covered by these rules will be decided by the jury and the Fomunity team.
Prizes:
There will be only one overall winner, who will receive a prize of €150.
Eligibility:
All photographers.
Copyrights & Usage Rights:
The photographers retain all the photograph rights.
Fomunity only use the photos to show them inside the galleries, and to publish jury's decision in our blog and our social profiles.
Theme: