HistoryMiami Museum Photography Fellowship 2023
$25,000 Award for Local Miami Documentary Photographers
Deadline: 30 June 2023
Entry fee: Free
Submit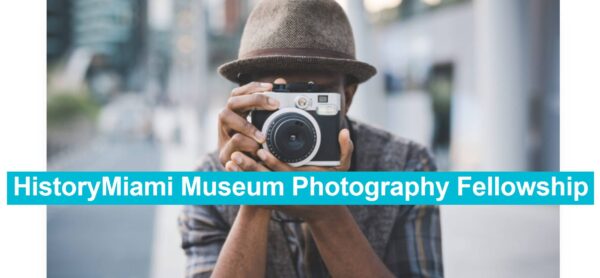 HistoryMiami Museum's Center for Photography is proud to announce its second annual photography fellowship for emerging local documentary photographers who capture and amplify community stories, particularly those relating to Black, Indigenous, People of Color, and Latinx community members.
Last year's winner was Woosler Delisfort of Little Haiti. Over the past year, Delisfort has worked to capture the places of worship throughout Miami that Black and Brown people go to for connectivity, peaceful tranquility, introspection, and spirituality. His work will soon be shared in a photography exhibition titled Sanctuary scheduled to open at HistoryMiami in the Summer of 2024. Delisfort also mentored a youth cohort whose work will be presented in an online exhibition later this summer.
"Woosler Delisfort is a talented photographer whose extensive photo project provides an intimate view of Miami's vibrant spiritual traditions. We are excited to showcase Woosler's work, and the youth that have been training with him, and we are looking forward to welcoming our next fellow," Barfield said.
HistoryMiami Museum's Center of Photography is dedicated to collecting, safeguarding, and sharing photographic images that tell the stories of our community. The Center emphasizes documentary photography and serves photographers, researchers, and the public through its collection of historical images, dedicated photography galleries, programming, and more. This fellowship project intentionally aligns with the museum's desire to address representational gaps in past collaborations, our collection, and the stories featured in our exhibitions and programs.
Submissions for the 2022-2023 fellowship are due by June 30, 2023. Application details can be found at www.historymiami.org/photofellow. Applications will be reviewed by a diverse committee of local documentary photographers, curators, other photography professionals, and/or museum staff. The selected fellow will be announced by July 31, 2023.
The project Is made possible by a generous donation from The Jorge M. Perez Family Foundation at The Miami Foundation, as part of the CreARTE grant program. First established in 2019, CreARTE aims to bridge gaps in key areas impacting the creative community most, including access to affordable workplaces, cultural equity, and education.
Prizes:
The fellowship will provide one photographer with opportunities, including:
• A $25,000 award to support the creation of new work related to Miami.
• Select photography to be added to HistoryMiami's permanent photography collection.
• An exhibition of the fellow's work at the museum and/or offsite.
• An opportunity to collaborate with HistoryMiami's Education Department to work with local youth.
• One or more public programs highlighting fellowship-related work. •
"The Perez Family Foundation CreARTE grant allows HistoryMiami Museum to continue supporting local photographers who document and share stories from our community," said Christopher Barfield, Director of Exhibitions at HistoryMiami Museum. "Last year was a great success. The depth of talent in Miami is undeniable, and we are eager to collaborate with a new photographer to document and illuminate the Miami experience."
Eligibility:
Local Miami documentary photographers
Copyrights & Usage Rights:
-
Theme: