Images from a Glass Eye International Juried Photography Show
A Photographer's artistic vision through the camera's Glass Eye.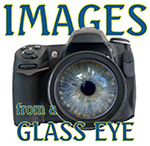 The photographer's eye is constantly searching for unforgettable images that leave emotional imprints lingering in the mind. They may come unexpectedly or they may be the result of careful and thoughtful planning. But in the hands of an inspired artist, the camera's glass eye captures more. Call for entries for the 2016 Images from a Glass Eye International Juried Photography Show, sponsored by the Tehama County Photo Club, Red Bluff, Ca. Juror is Sean Arbabi, travel photographer, author and educator. He has completed over 200 assignments for Sunset Magazine, 150 for Via, with featured articles in Lightroom, Outdoor Photographer, Peterson's Photographic and Shutterbug. Images must be submitted online as digital files. For the Prospectus and to enter go to http://www.imagesfromaglasseye.org Contact us: info@imagesfromaglasseye.org
Prizes:
$2,650 USD. Best of show, $1,500; Second Place, $500; Third Place, $250; Merit Awards, 4 at $100.
Eligibility:
Open to all photographers worldwide 18+. Film and digital images. Images suitable for a family-oriented gallery.
Copyrights & Usage Rights:
Entrant grants the Tehama County Photo Club and its representatives and agents the right to reproduce their work on the Images from a Glass Eye website, for printed announcements, show catalogs and for show marketing. Entrant grants only the preceding rights and retains ownership of all and other rights to their works.
Theme: