Images from Spain: The Spain Buddy photography competition
Win a €300 hotel voucher with your photographs of Spain
Deadline: 30 November 2015
Entry fee: Free
Submit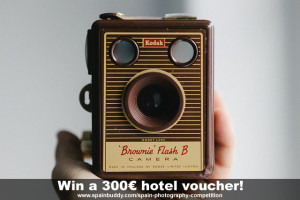 Do you have some photographs of Spain you think the world would like to see? It's free and easy to enter our photography competition!
There is no specific theme to the competition, the only requirement is that your photograph must have been taken in Spain. Any subject, anywhere as long as it is in Spain!
Up to five images per entrant are allowed.
Judges
Alan Gandy, Spain – is the co-owner of www.spainbuddy.com, a professional photographer and former lecturer with a fine art photography degree from much longer ago than he cares to talk about. Alan isn't what you think of as a normal photographer. He describes himself as opinionated, arrogant, cantankerous and argumentative, especially when discussing the subject of photography. Alan has had his work published, exhibited, and sold to collectors and through libraries.
Steve Ellaway, Wales – an old college friend of Alan's at the University of Derby where they studied together. He worked as principal photographer at English Heritage North and later became a lecturer in photography at Swansea Metropolitan University and Filton Collge Bristol, where he taught for 20 years. He has had work published in the British Journal of Photography, Phototech Magazine and the German leading on line Magazine: Kwerfeldein. He was recently voted as the British Landscape Photographer of the year by the 'Outdoor Photographer' Magazine. He is also a member of Getty Images.
Allegra Boverman, USA – a New York native, is a freelance photographer in New Hampshire and an accomplished and award winning photojournalist. She has been taking photos since she was a child, taught first by her father; and, while she was an English major in college, also studied photography and art history; including some masters work in photography and visual communication.
Prizes:
Win a €300 hotel voucher that can be redeemed on any of the 300,000 plus hotels that our sponsors Exclusive City Breaks can provide, anywhere in the world.
Eligibility:
Over 18
Copyrights & Usage Rights:
In submitting photographs to the competition contestants accept that they grant Spain Buddy and Exclusive City Breaks permission to use them for online promotion (credited with the entrant's name). Copyright remains with the owner, and this permission can be withdrawn by request at any time.
Theme: