In our own words
"In our own words: photo contest" - part of COLING research project
Deadline: 10 October 2019
Entry fee: Free
Submit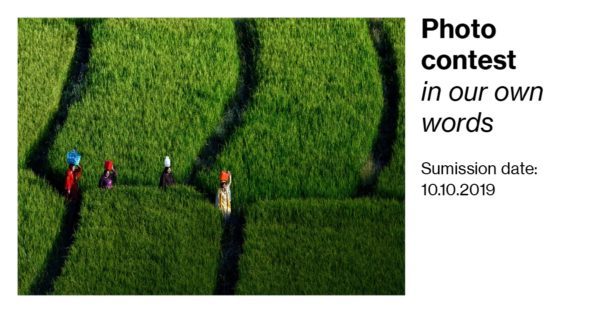 We are pleased to invite you to take part in the "In our own words: photo contest" organized as part of the RISE COLING research project. Entries should represent minority,  indigenous or endangered languages. We especially encourage young members of local communities to share their passion for language and culture and express their emotions through photography.
Photo Contest Categories:
1. Me, Human: photos in this category should present portraits. In the description, please share information about the person and his / her importance for the community. Example: You could send a portrait of an important elder or activist from your community.
2. My word - My world: The title of the image should focus on one specific word in a minority/endangered language. The image itself could represent the word literally, metaphorically, or artistically. In the description, please describe the meaning and context of your chosen word, as well as the relevance to your community. Example: "My favorite word in Calabrian Greek is cucciamata - a fruit ready to be collected but not yet picked. Accordingly, this photo is of a local olive tree with ripe olives which will soon be harvested."
3. Sounds of Our Souls: images submitted in this category should present various types of artistic performances relevant for your culture or community (dance, music, poetry, theatre, paintings, or others). In the description, please explain the type of performance and the relevance to your community. Example: I could send a picture of a drumming ceremony or dance performance.
4. Naturally!: images in this category should present the relationship between nature and culture. They can include landscapes, plants, or animals. In the description, please explain the importance of the relationship between the environment and culture depicted in the image. Example: I could send a picture of my favorite tree or of my environment and its current situation.
5. Mobility: images that capture the movement of your culture or your people in space or time. Example: I could send a photograph of my community migrated or an innovation in cultural practices.
Prizes:
1. The prize for first place in each category is:
Manfrotto MB LF-WN-BP Windsor Camera Backpack
Innovatively designed with a vintage-themed look and water resistant material, it has high-quality leather trims and a soft plaid lining. With the padded inside divider, you can easily store your medium DSLR with an attached 70-200/2.8 lens plus 2 additional lenses. Or you can store your premium CSC camera with multiple lenses. This camera backpack can also store a DJI Mavic Pro Combo kit, and can be turned into an everyday field trip backpack by removing the divider. It has a dedicated compartment for storing a 15" laptop. Thanks to this backpack's top and side zippers, you can easily access your equipment and pack it away in no time. For your assurance, this backpack features the Manfrotto Protection System, which is guaranteed to protect your gear from shock. You can also carry your tripod via the two adjustable leather attachments. This camera backpack has been manufactured to high standards in Italy.
Specifications:
2. The prize for second place in each category is:
LaCie 1 TB Rugged Mini USB 3.0 Portable 2.5 Inch Shock, Drop and Crush Resistant External Hard Drive for PC and Mac (LAC301558)
• Shock and drop resistant up to 1.2 m in non-operating mode
• Pressure resistant up to 1000 kg (2205 lbs)
• Automatic backup software and AES 256-bit encryption provide seamless protection of your important data
• Compatible with PC and Mac
3. The prize for third place in each category is:
Samsung Mobile UK 256 GB 95 MB/s Class 10 U3 Memory Evo Plus MicroSD card with Adapter
• Up to 95 MB/s read and 90 MB/s write speed with class 10 and U3 compatibility, includes full-size SD adapter , class: grade 3, Class 10 , product type: micro SDXC memory card,
• With the Samsung EVO plus micros card, you can shoot rich and detailed 4K UHD videos from your smartphone, tablet, or camera and be confident that each memory will be safe,
• Backed by 4-proof protection, the EVO plus can withstand up to 72 hours in seawater, extreme temperatures, airport X-ray machines and magnetic fields equivalent to an MRI scanner.
Eligibility:
In each of the categorie will be selected: the winner - first place and two finalists - second and third place. The jury may also award other participants. The winning photo will be exhibited during the Language Diversity Week in Warsaw in November 2019.
Copyrights & Usage Rights:
-
Theme:
Open Theme Nature Multi-categories People Wildlife Other Culture