International Competition of Nature Photography Glanzlichter 2019
The overall winner will receive € 2,500.
Deadline: 31 March 2019
Entry fee: € 20
Submit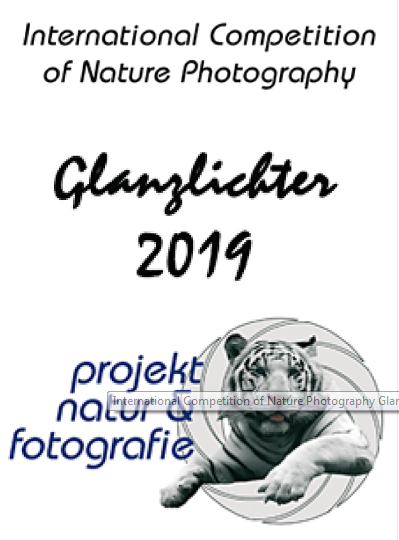 The competition is open to everyone who practices nature photography as a hobby or on a professional basis.
There are 8 categories: • Magnificent Wilderness (landscape photography) • The Beauty of Plants (plant phtography) • Nature as Art (shape, colour and abstraction of nature) • Artist of Wings (bird photography) • The World of Mammals (images of mammals) • Diversity of all other Animals (animal kingdom except birds and mammals) • Black and White (images that show the subject in black and white) • Moments in Nature (images of special moments in nature) • Aerial Views of Nature (nature pictures by multicopter)
Prizes:
In total, prizes worth more than € 30,000 can be won which includes cash prizes of more than € 12,000 and special prizes worth € 18,000.
The overall winner will receive € 2,500.
The category winners will receive € 500 each.
The Junior Award winner will receive € 500 and Olympus camera equipment worth € 1,700.
Eligibility:
-
Copyrights & Usage Rights:
The copyright remains with the photographer.
The images will be presented at a touring exhibition, they will be published in the Glanzlichter book and shown online at www.glanzlichter.com.
Theme: