International Landcape Photography Exhibition 2020
International Landscape Exhibition
Deadline: 1 October 2020
Entry fee: £30
Submit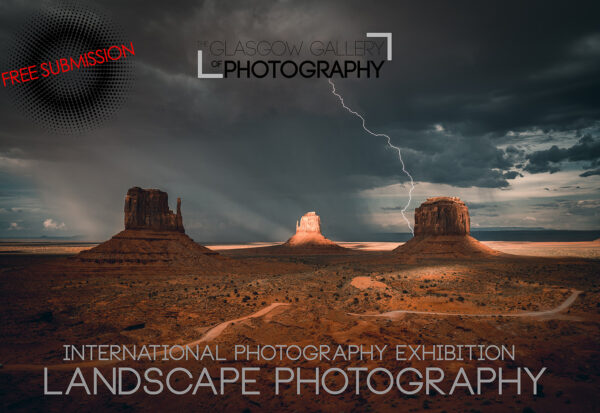 At the Glasgow gallery of photography the photographers who run the gallery are sick and tired of seeing the same big name brands running large scale exhibitions where photographers pay fee's upfront and get nothing in return, At the Glasgow gallery of photography submissions are FREE and only if and when your images are selected for exhibition we ask you to pay a fee, This fee goes towards printing your images to the best possible standard and exhibiting them for a period of between 5 and 10 days in a gallery where your work will be seen on the wall.
Submission to our exhibitions is FREE, If your image is selected then there is a £30.00 Fee to help cover the cost of the exhibition.
The international Landscape exhibition is an open call exhibition for all International photographers of any skill level, we want to show your landscape photography to a new audience, wether you are just starting out or have been doing it for years, we want to encourage photographers to show their work in our Gallery.
All kinds of landscapes are welcome to take part in the contest.
Prizes:
Photographers will have work Printed and exhibited to a high standard in a professional gallery in Glasgow, Scotland. Work will then be permanently displayed in our online Gallery.
Eligibility:
Over 18s
Copyrights & Usage Rights:
You are the only copyright owner and creator of the photographs.
The photographs do not infringe upon the copyrights or any other intellectual property rights of any third person or entity, or violate any person's rights of privacy, does not include trademarks owned by third parties or violate any other law.
All entrants agree to fully indemnify Glasgow gallery of photography in respect of all royalties, fees and any other financial debt to any person by reason of your breaching any of the foregoing.
​
The royalties of the Works are not bestowed to The GGOP at any time. The copyright of the Works remains in the creators and in them alone.
​
The copyright of the Works during and after the exhibition remains with the Artist.
GGOP does not have the right to make use of or bestow the high definition files or the prints of the Works that will be used for the realization of the exhibition.
GGOP will not have any commercial profit from the Works that will be exhibited and it cannot exploit them at any time.
​
GGOP assume no responsibility for any incorrect, inaccurate or incomplete information that has been uploaded in no event will GGOP be responsible or liable for any technical or colour representation of the photos.
Theme: