International Martial Arts Photo Contest
Bridging martial arts and visual art
Deadline: 31 August 2018
Entry fee: Free
Submit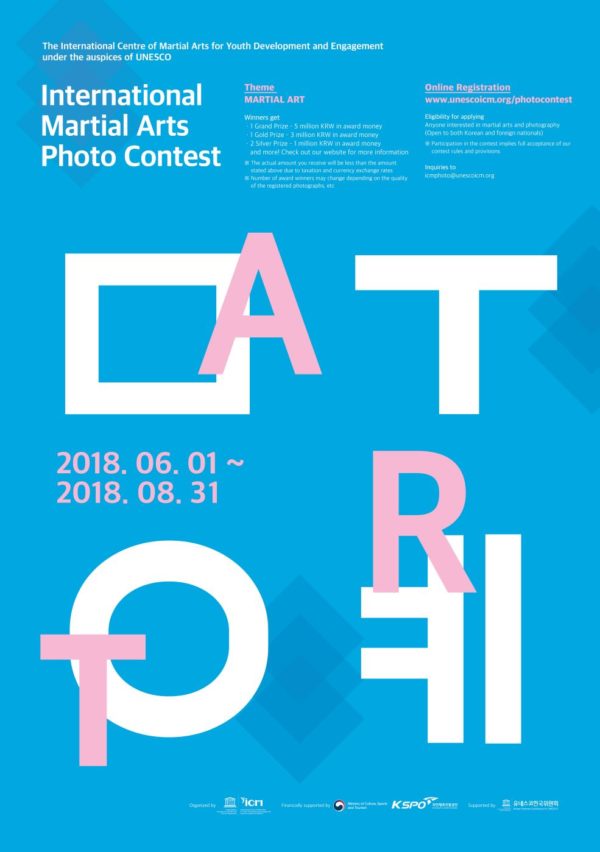 The International Centre of Martial Arts for Youth Development and Engagement under the auspices of UNESCO will be accepting entries to its 'International Martial Arts Photo Contest' from June 1-August 31.
The theme of the contest is on Martial Arts. The contest is open to all who are interested in martial arts and photography, including non-Korean nationals. The centre provides declarations, reports and action plans related to sports and martial arts on the contest website with the aim of providing the participants with more reference materials to the contest theme so that they understand fully the values of martial arts which are emphasized by the UNESCO.
Participants are required to submit their works through the contest website(www.unescoicm.org/photocontest). All participants should submit at least 3 and at most 5 photograph files. For more information, visit its homepage.
The winners will be announced after going through the judging process on September and will be awarded with award certificates and award money. Awards include 1 Grand Prize (5,000,000 KRW award money), 1 Gold Prize (3,000,000 KRW award money), 2 Silver Prizes (1,000,000 award money), 8 Bronze Prizes (400,000 KRW award money) and 30 Fine Work Prizes (200,000 KRW award money). Additionally, the winners will be given opportunities to participate in exhibitions which would be held in and out of South Korea.
"This contest seeks to discover and share creative and visual art works, in particular photographs, which contribute to promoting the values and importance of martial arts for international peace and development", said the Secretary General of the centre Kim, Si Hyun.
If you have any questions with regards to the photo contest, contact the centre at icmphoto@unescoicm.org or +82-43-845-6748.
Prizes:
1 Grand Prize 5,000,000 KRW award money and award certificate
1 Gold Prize 3,000,000 KRW award money and award certificate
2 Silver Prizes 1,000,000 KRW award money and award certificate
8 Bronze Prizes 400,000 KRW award money and award certificate
30 Fine Work Prizes 200,000 KRW award money and award certificate
Eligibility:
Everyone interested in martial arts and photography regardless of her or his country of residence, Judging Criteria: Relevance to the theme, Creativity, Aesthetics, Photography techniques
Copyrights & Usage Rights:
Each participant remains as the copyright-holder of all submitted photographs. As the owner, the winners of the contest grant to the centre, for the whole term of copyright, the permission of exclusive right to use, edit, translate, reproduce, copy, exhibit, publish or distribute the work for the purposes of the contest such as exhibitions, photobook or any other promotional purposes of the centre.
○ Causes of annulment of the award winning works, or exclusion from review are as follows (Even in case such works have been awarded a prize and the fact of such violation nor offense is discovered at a later date, the award will be annulled and the prize shall be retrieved)
* In case the participant refuses or fails to submit the original copy of the work at least 10MB of size when required
※ The centre may contact the participants to ask for original copies of the work or higher definition version of the works during the judging process
* Works that are reported to have legal issues or have infringed any third party rights including but not limited to portrait rights, copyrights and copied or pirated works.
* Works that do not satisfy the required format and regulation of the contest
* Works that have already been awarded in other competitions
* Works that have been produced or distributed as printed materials, through websites or SNS for commercial use
* Works which the participants do not own the copyrights to
* Entrants who have submitted the works on behalf of another person
Theme: