Ireland Era of Technology
From showing us stunning Irish landscapes to residents indulging in th
Deadline: 24 July 2017
Entry fee: Free
Submit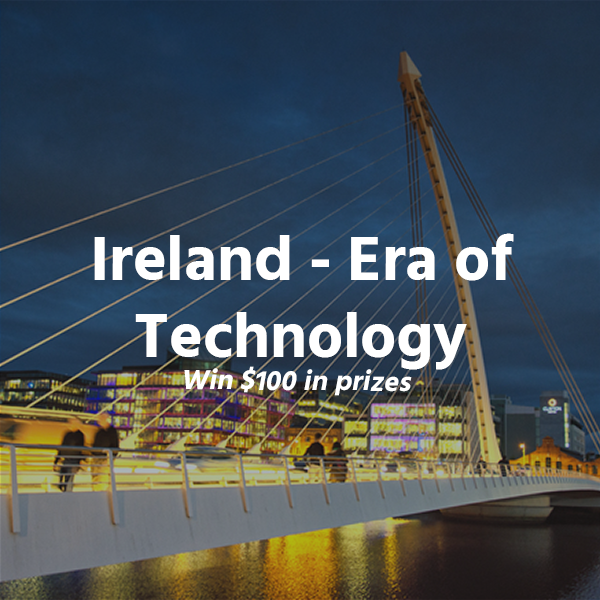 The IE Domain Registry (IEDR) are looking for images that capture the impact of technology in Ireland! Our 'Ireland – Era of Technology' Photo Challenge encourages you to delve in to your patriotic side and show us how you see the impact of technological advancement on local people, their lives as well as local businesses in Ireland at large. Feel free to get creative. From showing us stunning Irish landscapes to residents indulging in their tech-savy side or some of the country's well known monuments or sky scrapers! Let us see how the era of technology in Ireland is depicted by you! Photos submitted to the challenge will be used by IEDR on their website as well as any marketing activities.
Prizes:
CoinaPhoto will also offer the photographers with top 3 photos, the exciting opportunity to win prizes worth up to €150.
Winner will get a €100 voucher from Amazon
1st runner up will get a €50 voucher from Amazon
2nd runner up will get an iBlazr 2 Flash from Conceptor
All winning shots will be displayed on CoinaPhoto's Photo Challenge page.
Eligibility:
over 18
Copyrights & Usage Rights:
Copyright: You own all of your Content, and subject to our terms of service, you
can control how it is shared through your Account settings.
Usage of Entry: Photos may be featured on our blog to advertise the winners. Photos approved for our marketplace are available for buyers to purchase, enabling you to earn additional income.
Theme: