IREX 5th Annual Photo Contest 2016
Cash prizes totaling over $1,000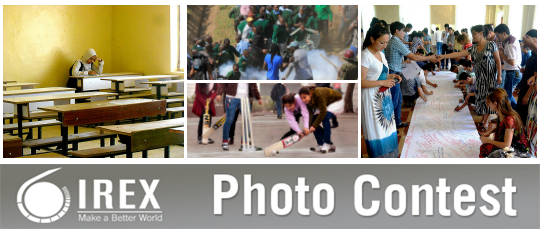 Enter IREX 5th Annual Photo Contest for a chance to win cash prizes totaling over $1,000. We encourage you to submit your best images of scenes and individuals around the world that demonstrate one or more of four theme categories:
1. Empowering Youth – Photos should demonstrate how youth, as active community leaders and informed citizens, represent opportunity for the future and positive change.
2. Cultivating Leaders – Photos should explore how diverse leaders strive to serve others and drive change at every level of society.
3. Strengthening Institutions – Photos should demonstrate how institutions build just, prosperous societies through community engagement, accountability, and responsive governance.
4. Extending Access to Quality Education and Information – Photos should explore how independent media, quality education, and new technologies increase access to information and contribute to civic engagement in communities.
Prizes:
There are five prizes total. A panel of international development and photography experts will choose the winners for the Best of Category prizes ($250, four). The People's Choice prize will be decided by IREX's fans on Facebook. IREX may also select up to five honorable mention finalists.
Best of Empowering Youth Category $250.00
Best of Cultivating Leaders Category $250.00
Best of Strengthening Institutions Category $250.00
Best of Extending Access to Quality Education and Information Category $250.00
People's Choice Category $250.00
Eligibility:
Entry is open to professional and amateur photographers of all levels who are at least eighteen (18) years of age at the time of entry, regardless of residence or citizenship, provided the laws of the applicable jurisdiction permit participation. Current IREX directors, officers, employees, contractors and volunteers, and members of their immediate families, are not eligible to participate. Photographs must have been shot by the Contest entrant and be contemporary or timeless, ideally within the last two years. Each online entry must also include, as requested on the form, a brief description explaining how that image is representative of the contest theme.
Copyrights & Usage Rights:
An entrant must hold, and affirm that entrant holds, all rights to the photograph(s) submitted; those that violate or infringe upon another person's copyright or license are not eligible.
By entering the Contest, all entrants grant IREX a royalty-free, irrevocable, perpetual, worldwide non-exclusive license to use, reproduce, distribute, display and create derivative works of the entries (with or without a name credit), in whole or in part, for any educational, promotional, publicity, archival, exhibition or other non-commercial purpose, in connection with the Contest and promotion of the Contest or otherwise, in any media now or hereafter known, including, but not limited to: Display at a potential exhibition of winners; print publication of reports and brochures featuring select entries in the Contest. The Organizer will not be required to pay any additional consideration or seek any additional approval in connection with authorized uses. Entrants consent to the Organizer doing or omitting to do any act that would otherwise infringe the entrant's "moral rights" in their entries. Display or publication of any entry on the Organizer's website does not indicate the entrant will be selected as a winner. Additionally, by entering, each entrant grants to The Organizer the unrestricted right, without any additional approval or consideration, to use the entrant's name and/or any statements made in submissions to, or otherwise in connection with, the Contest, and pictures or likenesses of Contest entrants for any purpose, or to choose not to do so, at Organizer's sole discretion.
Subject to any license provided for under these Official Rules, entrant will retain copyright to all photographs submitted. Entrants may continue to use photographs submitted to the Contest for any commercial or non-commercial purposes permitted by law and in compliance with these Official Rules.
Theme: