KLICKIDEAS – MACRO PHOTOGRAPHY
Expose Your Ideas and be Creative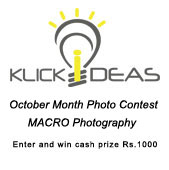 Photographers from all levels of experience (Professional, Amateur, and Youth 18 and under) are invited to enter this competition.
Contest is open only for participants residing in India, Bangladesh and Philippines.
SUBMISSION OF ENTRIES
Photographs of not more than 3 MB in size must be submitted online and the organisers may request for higher resolution images subsequently.
Entries should be in JPEG format and at least 1600 pixels wide for a horizontal image or 1600 pixels tall for a vertical image.
Each participant can submit only one entry
Digital manipulation that distorts the reality of the photos will not be allowed. Only basic enhancements such as sharpening, contrast adjustment, or simple cropping will be allowed. And the watermarks should not dominate the photograph.
We have the right to reject entries with incomplete details.
The file name for each photograph should be clearly labelled with the participant's name_the theme
Ex : vinodh_people.jpg
We do not accept more than one contestant per e-mail address.
Prizes:
Winner will get Rs 1000
Eligibility:
18+ (Indians)
Copyrights & Usage Rights:
Klickideas recognizes that the proper management of personal information is very important. Accordingly, in line with the Klickideas Privacy Policy, personal information will be handled in the following manner:
Acquisition of Personal Information
The Company will acquire in a fair and lawful manner, only such personal information as is necessary, and will ensure that the use of such information is restricted.
Personal Information Use
Personal information acquired by the Company may be used in the following ways:
To enable response to customer requests including customer inquiry history.
As a reference to determine customer requirements for contest, planning, development, advertisement, sales, and service activities of the Klickideas (This personal information will include answers to questionnaires given at the time of payment, the customer satisfaction survey, and the customer's inquiry history)
To provide contest information, company information, service information, and other related information of Klickideas, e.g. the sending of a newsletter, new contest information.
To notify a prize winner or send a prize, or for the purpose of other communication with the person in question
As defined by Personal Data Protection Law and other applicable laws and regulations.
The acquired personal information may, provided that particular individuals cannot be identified, be processed and used as statistical data.
Theme: