Kuala Lumpur International Photoawards 2019 for Portraiture
KLPA2019 Portrait Awards - UNYIELDING GAZE theme and OPEN categories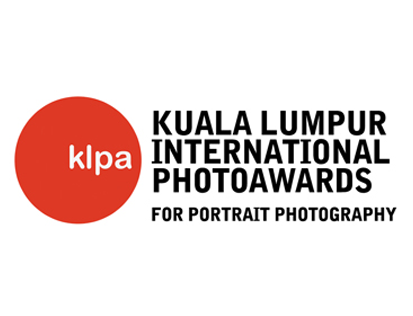 KLPA are proud to announce the Call for Entries to the 11th instalment of Kuala Lumpur International Photoawards 2019 for Portrait Photography.
Following on from a memorable 10th instalment, this year are focussing our attention on the many talented photographers around the world who are photojournalists or involved in photo-documentary projects, making and telling visual stories with their committed skills. 

The 2019 theme 'UNYIELDING GAZE ~ Portraits in Photojournalism' in the THEME Category will seek single-image portraits taken by journalists and documentary photographers in their pursuit of factual news events and socially engaged photo-projects. Special emphasis will also be given to photographers who push the boundaries of conventionality, to producing imaginative, fresh visually arresting portraits and personally driven and well-researched stories.

An OPEN category will also be available to photographers who may wish to submit portraits from any creative genres or styles, highlighting their individuality and personal visions.
CATEGORIES TO SUBMIT
THEME CATEGORY - SINGLE PORTRAITS - 1 to 10 images
OPEN CATEGORY - SINGLE PORTRAITS - 1 to 10 images
Prizes:
PRIZES FOR EACH CATEGORY
1st Prize USD$3,000 + TROPHY
2nd Prize USD$1,000
3rd Prize USD$500
TROPHY
Trophies have always led the prize structure of KLPA since our inception in 2009.
WORLDWIDE EXPOSURE
First prize winners from each category will receive cash prizes of $3,000 as well as a newly commissioned trophy to cherish. In addition, all 50 finalists will have their entries exhibited at ILHAM Gallery in Kuala Lumpur, Malaysia in September 2019. To further extend and increase visibility and be seen by audiences from new regions, KLPA is teaming up with several international photography organisations to present the 2019 finalists at the following festivals :

2019

June - Auckland Festival of Photography, New Zealand 

August - Mt.Rokko International Photography Festival, Kobe, Japan

 November - Photolux, Lucca, Italy


2020

 November - Yakushima Photo Festival, Japan


Eligibility:
All photographers over 16 years as of 30 April 2019
Copyrights & Usage Rights:
e. USAGE 1: Entrants agree that their work may be exhibited by the organisers and festival collaborators at an appropriate venue, and subsequently at any other exhibition tour venues organised by them for 3 years from the close of the contest.
f. USAGE 2 : Entrants agree that the organisers may use any entries featured in the exhibition without any payment to the Photographer, model or any third party for any sales, marketing, educational and publicity use on, and in, all media worldwide including catalogues, posters, postcards, the Internet and within a television documentary related to the exhibition for 3 years from the close of the contest. However, such free use shall only be in connection with the KL INTERNATIONAL PHOTOAWARDS and its promotion or featured activities by the organisers or third parties; and the photographer, and if appropriate their agency, will receive credit for such use.
g. COPYRIGHT : The Photographer always retains the copyright of all submitted images at all times, except in relation to the previous provision, that is, any free use shall only be in connection with the promotion of KL INTERNATIONAL PHOTOAWARDS by print, web or projection by the organiser, its partners, sponsors and media companies.
Theme: