Kuala Lumpur Photoawards 2020 Portrait Prize
Photographers will receive $3000, $1500 and $500 respectively.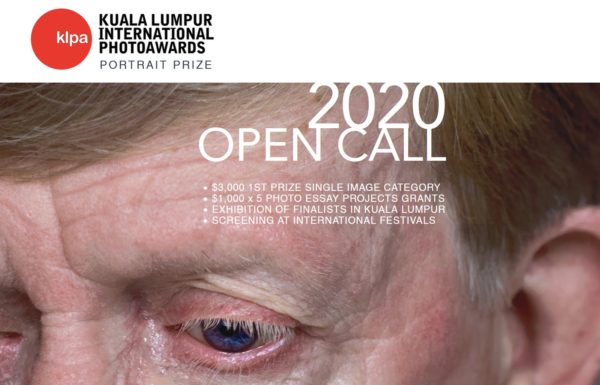 Portrait photography is vital to help us understand the human condition and in doing so, expand our minds. It allows us a glimpse into a distant conflict far away from home, or a thriving street community in our neighbourhood, only metres away. Often it feeds and informs us with new visuals to stories that we otherwise would not know, like the interiors of private homes, intimate moments, or greet faces and expressions of people we would never see. As a visual medium, it conveys what the photographer wants to show us, made possible through the expressive photo essay. At its best, the photo essay allows the viewer to relive and consider something that has not been encountered before, which enriches humanity, our experiences and how we treat each other.
Prizes:
This year we are awarding prize money to a greater number of photographers than before. As well as the regular SINGLE IMAGE PORTRAIT category, we are also awarding grants of $1,000 each to five photographers in the PHOTO ESSAY PROJECT GRANTS category. Projects must be 'portrait-based' photo-essays of up to 12 images on any topic. The grants may be used in any way to assist in the completion of their projects, and KLPA will exhibit the final projects in Kuala Lumpur in September.
SINGLE IMAGE OPEN CATEGORY
KLPA continue to reward fresh and inspiring single image portraits and this year is no exception. Photographers of the best three portraits will receive $3000, $1500 and $500 respectively. A shortlist of 40 entries will be exhibited at the prestigious ILHAM Gallery in Kuala Lumpur in September 2020 and also at several international festivals in collaboration with KLPA.
​
Throughout KLPA's 11 years, we have exhibited some truly memorable and stunning stand-alone portraits by emerging and established international photographers, and it is a real privilege to be able to present these to our growing audience around the world.
PHOTO ESSAY PROJECT GRANTS
For the first time, KLPA is awarding grants to five promising photographers to allow them to complete their projects that are in the 'work-in-progress' stages.
Each photographer will receive $1,000 in June which they may use in any way they choose e.g. purchase much-needed equipment, travel expenses, proofing costs, funding research, printing and production costs, photo-book dummies etc. Completed projects will be exhibited in Kuala Lumpur in September.
Our judges are looking for essays that are portrait-based with strong visuals and compelling narratives on contemporary issues; cohesive editing with relevant and complementary statements.
Eligibility:
The 2020 KUALA LUMPUR INTERNATIONAL PHOTOAWARDS is open to photographers - professional and amateurs - from all countries.
Copyrights & Usage Rights:
Entrants warrant to the organisers that they (the Photographer) own the work submitted, that the whole copyright in the work is vested in the Photographer or, if the copyright belongs to a third party such as an agency, that the Photographer has the right to submit the work free from encumbrances or restrictions and that if the work was commissioned for private and domestic purposes it is submitted with the permission of the person who commissioned it.
Theme: