Larry Sultan Photography Award
Artists in Residence receive a $10,000 cash award
Deadline: 31 December 2018
Entry fee: Free
Submit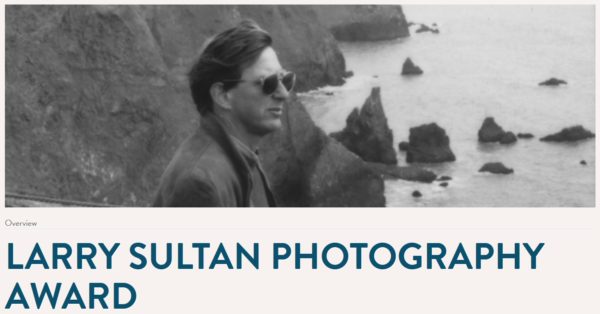 Presented in partnership with Pier 24 Photography, California College of the Arts (CCA), and SFMOMA, the Larry Sultan Photography Award honors the unique vision of American photographer Larry Sultan and his unparalleled impact as an artist, educator, and community member by recognizing one exceptional artist in the medium each year.
This Award represents an expansion of the Larry Sultan Visiting Artists Program, which brings six international artists, writers, and curators to San Francisco each year to offer free public lectures and to work directly with students at CCA. Both offerings are made possible through the generous support of Robert Mailer Anderson & Nicola Miner, the Black Dog Private Foundation, Randi & Bob Fisher, Jamie Lunder, Nion McEvoy, Pier 24 Photography, and Jane & Larry Reed.
Program Goals
- To support and invest in creative individuals at the cutting edge of their fields, and whose work is of exceptional merit
- To provide artists with the support and opportunity to take their work to the next level, and to explore and experiment
- To bring artists and thinkers into a dynamic community of local, national, and international artists: a professional network of creative practitioners and thinkers
- To encourage artists to explore their ideas and work within the context of the Marin Headlands, a part of Golden Gate National Recreation Area
- To bring an international community of artists to the Bay Area and create opportunities for engagement and cross-cultural exchange with local artists and audiences
Selection Criteria
- Merit of past work that exemplifies innovation in the discipline of photography
- Readiness to engage with and benefit from the residency experience at Headlands and the CCA community (see program goals)
- Potential to develop creative practice and impact the community at Headlands and beyond
Prizes:
The Awardee will be in residence at Headlands alongside a multi-disciplinary cohort of Artists in Residence, receive a $10,000 cash award, and engage meaningfully in the Bay Area's photography community. Headlands' residencies of six to ten weeks include dedicated use of a private studio, chef-prepared meals, and comfortable housing. The Larry Sultan Photography Awardee will become part of the vibrant and critical community of artists and thinkers who have long sustained Sultan's visionary legacy at Headlands.
Eligibility:
- Applicants are eligible by nomination only - Nominees may not be currently enrolled in an academic program
Copyrights & Usage Rights:
-
Theme: