LensCulture Black & White Photography Awards 2018
16 000 USD in cash prizes!
Deadline: 30 October 2018
Entry fee: Free
Submit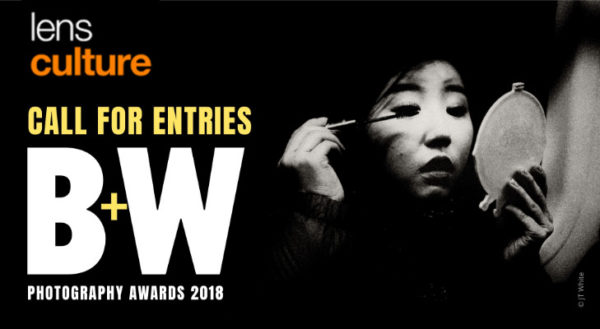 Even though we see the world in color, black & white photography has held a prominent place in our imaginations for more than a century and a half. At LensCulture, we have always loved the stunning simplicity and evocative power of black & white images. In our very first Black & White Photography Awards, we want to discover the best photographers worldwide who are expressing themselves with infinite shades of black, white, and grey. We're looking for work that plays with the dynamic relationship between light and dark across all subject matter, including street, portrait, fine art, landscape, and more.
For these Awards, we are happy to announce that the winners will be presented in an exhibition at Aperture Gallery in New York City! The exhibition will take place in spring 2019. Also, there is a free entry option for anyone to enter a single image! We truly want to discover the most talented image-makers and believe that every visionary photographer deserves the opportunity for exposure.
Prizes:
Series Award WINNERS:
1st Place: $5000
2nd Place: $3000
3rd Place: $1500
Single Image Award WINNERS:
1st Place: $3000
2nd Place: $1500
3rd Place: $1000
Eligibility:
LensCulture is committed to discovering the best contemporary photographers from all corners of the world. Our free entry option gives ALL photographers access to the best opportunities for exposure, engagement, and global recognition. Don't miss this opportunity—start your entry to the LensCulture Black & White Photography Awards today!
Copyrights & Usage Rights:
All photographers retain full copyrights for their own work. Period.
Winners, Jurors' Picks and Finalists grant LensCulture limited, restricted use of winning photos only to promote the photographers themselves and in connection with marketing the Awards competition itself.
Theme: