LensCulture Critics' Choice 2020
LensCulture Critics' Choice 2020 now open!
Deadline: 24 June 2020
Entry fee: Free Single Entry. $35 5+ Singles. $45 for 10 photographs, judged as a series. Receive a written review of your work for an additional $15.
Website: https://lensculture.co/2XrWPor
Submit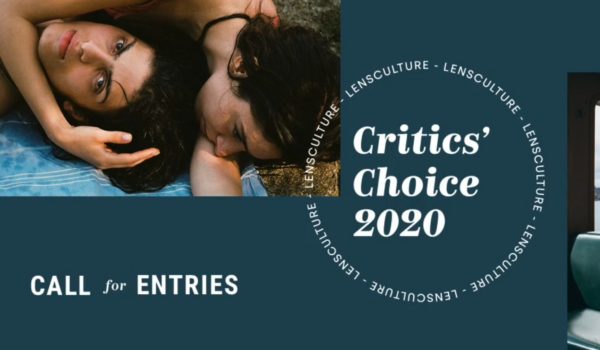 Unprecedented times call for new ways of thinking and our new Critics' Choice 2020 aims to give more photographers more opportunities to be recognized than ever before!
What's different? We've assembled our largest ever jury, with over 20 international experts eager to discover new photographers. Every critic will select three photographers with outstanding talent and creative vision. Your work only needs to resonate with one!
This is your best chance to be seen by the world's top experts and influencers in photography. Awards include an exhibition in Paris alongside Paris Photo 2020, cash prizes for the top ten photographers, global media coverage, and more. Free entry for single image entries and written professional reviews of your submission available.
We look forward to seeing your work, especially if you've entered it before. Open to all types of photography, all levels of experience, all ages.
Prizes:
The top ten photographers in this award will each get a $1000 cash grant.
Featured at international photo festivals. Selected works will be screened at photo festivals and events worldwide. Over the past year, our winners and finalists were screened at festivals in the UK, Hungary, Italy, Japan, Serbia, The Netherlands, Australia, Malaysia, Spain, France, the US, and more.
Visibility with industry insiders & creative professionals. If our jury ranks your submission highly through the judging process, you will be included in LensCulture Discoveries, our directory of top-rated photographers. We provide this directory to photography industry insiders and creative professionals to showcase photographers and their work to key decision makers.
Your work showcased toour social media community. Each photographer selected in the LensCulture Critic's Choice Awards will be profiled via dedicated posts on our Instagram (945K followers) and Facebook (one million followers) accounts, sharing your work with new audiences and potentially new opportunities.
Written feature in our online magazine. All photographers selected in the LensCulture Critic's Choice Awards will be profiled via a special editorial feature in LensCulture's online magazine. The feature will include a selection of your work and introduce our readers to you as a photographer, alongside written comments from the juror who selected your work.
Permanent exhibition on LensCulture online gallery. All photographers recognized for this award will be prominently featured in the permanent online gallery on our site.
International press exposure. Award winners receive press coverage from publications and media outlets around the world. Past winners have been featured in major publications including BBC, The Washington Post, Internazionale, VICE, The Times of London, Huffington Post, Spiegel Online, The British Journal of Photography, and The Telegraph.
Eligibility:
Open to all, worldwide
Copyrights & Usage Rights:
All photographers retain full copyright for their work. Winners, Jurors' Picks and Finalists grant LensCulture limited, restricted use of winning photos only to promote the photographers themselves and in connection with marketing the Awards competition itself.
All entrants agree that all photograph(s) submitted to the competition may be reproduced (with photographer copyright credit) and used to conduct and promote LensCulture competitions. You hereby grant LensCulture with a right to use submitted photographs in the framework of such promotional activities.
Theme:
Architecture Black and White Cityscapes Conceptual Documentary Fine Art Multi-categories Portrait Photojournalism Open Theme Street