LensCulture Exposure Awards 2015
Discovering today's best photographers from ALL corners of the world
Deadline: 21 December 2015
Entry fee: Free
Submit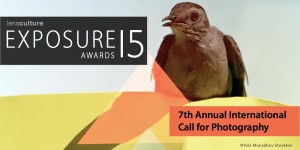 Call for Entries! LensCulture is pleased to announce the opening of the LensCulture Exposure Awards 2015. Now in its 7th year, the competition aims to discover and showcase the world's best contemporary photographers — including all genres of photography and from diverse cultures on every continent. The call for entries is available in 16 languages, so it is truly a global competition.
Full details at the website: https://www.lensculture.com/exposure-awards-2015
DEADLINE: Monday, December 21, 2015
Prizes:
**Entering the awards has a wide variety of benefits: **
Six winners and 25 finalists will be featured in a special exhibition at Somerset House in the heart of London as part of Photo London 2016. Six top winners will be awarded cash prizes. Winners and finalists will also be projected at some of the top photography festivals around the world. And their work will be published across LensCulture's platforms and channels, reaching a global audience of 1.5 million.
Everyone can benefit: ALL photographers who enter a series of images will be able to receive a written critical review of their submission from an industry professional. Plus hundreds of the top-rated photographers (in addition to the winners and finalists chosen by the jury) will have their work shared with our influential network of LensCulture Insiders. During the open call for entries, LensCulture editors select a few submissions each day to be highlighted in the online gallery on the website and in social media — giving global exposure to hundreds of photographers before the formal judging begins.
Eligibility:
18 years or older
Copyrights & Usage Rights:
All photographers retain full copyrights for their own work. Period.
Winning photographs may be included in the future in traveling group gallery exhibitions and/or screenings and projections at arts institutions and festivals worldwide. LensCulture will always notify the owner of the photograph before such an inclusion is made. Each photographer retains copyright of his or her images, and proper credit lines will be attributed to each photographer when exhibited or screened anywhere by LensCulture.
Theme:
Environmental Aerial Abstract Fine Art Self-Portrait Portrait Street Urban Conceptual Documentary Landscape Architecture Multi-categories Open Theme