LensCulture Exposure Awards 2017
EA17 will help photographers of all levels gain global recognition
Deadline: 20 December 2016
Entry fee: $20 for a single photo, $60 for a series. All photographers who send more than 5 photos are eligible to receive a free, professionally written submission review.
Submit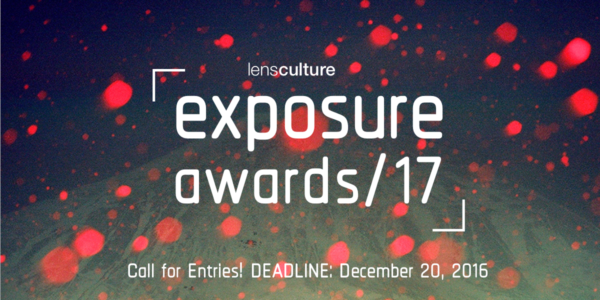 The LensCulture Exposure Awards 2017 aim to discover and showcase the world's best contemporary photographers — including all genres of photography, and from diverse cultures on every continent.
Now in its 8th year, the competition will help photographers of all levels gain global recognition and move forward creatively and professionally. Our international jury will select six top winners as well as eight jurors' picks, 25 finalists and five student spotlights.
In the interest of helping photographers everywhere to improve their practice and to move forward in their careers — EVERY participant is entitled to a written expert review of their submission — at no additional cost. Current students and recent graduates get a 30% discount on the entry fee. Don't delay! Deadline: December 20, 2016
Prizes:
$23,000 in Prize Money
Exposure Awards 2016 Online Exhibition
LensCulture Network Membership
Massive Exposure to our Global Audience of 2+ Million
International Press Exposure
International Photo Festival Projections
Published in "The Best of LensCulture" Photobook
Featured Article on LensCulture
Submission Review by Photo Industry Professional
Opportunities for Immediate Exposure
Visibility with LensCulture Insiders
Eligibility:
There are no limitations on age, level, genre or location.
Copyrights & Usage Rights:
Copyrights:
All photographers retain full copyrights for their own work. Period.
Usage rights:
Winners and Finalists grant LensCulture limited, restricted use of winning photos only to promote the photographers themselves and in connection with marketing LensCulture Awards competitions.
LensCulture editors will select and feature hundreds (but not all) of submissions during the competition in our online gallery and social media albums (always with copyright credit noted for each participating photographer).
Theme: