LensCulture Street Photography Awards 2016
SHOW US YOUR STREETS; SHOW US HOW YOU SEE THE WORLD!
Deadline: 16 August 2016
Entry fee: $20 - $60
Submit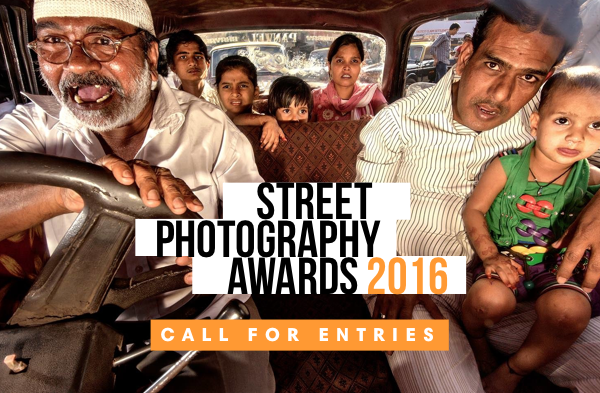 The 2nd annual LensCulture Street Photography Awards invite you to show us how you see the world! We want to discover today's finest street photographers who capture exceptional moments of life in all of its vibrant forms. Our global reach has never been larger, as our audience has grown to more than 2 million. Thus, your entry into our Street Photography Awards comes with many opportunities for international exposure and recognition: whether it's having your work seen by photography industry insiders or projected at international festivals, as well as appearing in the new Best of LensCulture 2016: 150 Award Winning Photographers photobook to be distributed and sold worldwide. You're invited to participate, engage and show us your streets!
Prizes:
Awards
As part of our dedication to discovering the best of contemporary photography, we have expanded our award categories to recognize a greater number of talented photographers. We will be awarding winners, finalists, special selections from each juror, as well as a new "Top 100." Read more about each below.
SERIES AWARD: 1st Place: $5,000 USD | 2nd Place: $3,000 USD | 3rd Place: $1,500 USD
SINGLE IMAGE: 1st Place: $3,000 USD | 2nd Place: $1,500 USD | 3rd Place: $1,000 USD
JUROR'S PICK: Each juror will select an individual Juror's Pick to receive special distinction and $1,000 USD.
FINALISTS: 20 Finalists will be selected.
LENSCULTURE TOP 100:
This is a new award category that distinguishes the Top 100 photographers based on the jury's reviews. All the work from the Top 100 will be included in our Street Photography 2016 Online Exhibition.
SAN FRANCISCO EXHIBITION
Winners, Finalists, and Jurors' Picks will have their work exhibited at SF Camerawork, a nationally recognized organization promoting emerging artists in the photographic arts. With a 40-year history of supporting work not shown at commercial galleries or in museums, SF Camerawork is a celebrated exhibition space in the Bay Area and beyond the United States, reaching a global audience of photographers and collectors.
Left: LensCulture Emerging Talent 2015 Exhibition at SF Camerawork Gallery
PROJECTIONS AT INTERNATIONAL
PHOTO FESTIVALS
We partner with 50 photo festivals from around the world to show our award-winning photographers' work year-round. Winners and Finalists in the 2016 Street Photography Awards will be shown at a selection of festivals from our growing list of partners this year, which include: FORMAT International Photography Festival, Voies Off Arles, Krakow Photomonth, Brighton Photo Biennial, Copenhagen Photo Festival, Photomed, Athens Photo Festival, Circulation(s) Photo Festival, Tokyo International Photography Festival, Cortona on the Move, Medium Festival of Photography, Brighton Photo Fringe and many more.
Eligibility:
Anyone, anywhere in the world (18 and up)
Copyrights & Usage Rights:
WE RESPECT ARTIST'S RIGHTS
All photographers retain full copyrights for their own work. Period. Winners, Finalists and Jurors' Picks grant LensCulture limited, restricted use of winning photos only to promote the photographers themselves and in connection with marketing the Awards competition itself.
Details can be found in the Competition rules and please see our FAQ for more details.
Theme: