LensCulture Street Photography Awards 2017
$22,000 in cash awards and much more.
Deadline: 1 August 2017
Entry fee: • Enter 1 single photo for free. • $50 USD for 5 single photos reviewed as 5 separate entries. • $60 USD for a related series of 10 photos reviewed as one entry. Submission should work together as a group, thematically or aesthetically.
Submit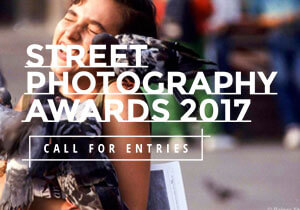 The 3rd annual LensCulture Street Photography Awards invite you to share your vision of the world's streets! We want to discover today's finest photographers capturing exceptional moments of life in all of its vibrant forms. Engage with the global photography community with your very best images: our audience reaches over 2.5 million people around the world, and our winners and finalists receive career-changing recognition for their work. In addition to international exposure, prizes and benefits include: an exhibition in San Francisco, projections at international photo festivals, $22,000 in cash awards and much more.
For the first time ever, we are waiving fees for anyone who enters a single image. We truly want to discover the most talented image-makers and believe that EVERY photographer deserves the opportunity for exposure and recognition without restriction.
Prizes:
• Series Award
1st Place: $5,000 USD
2nd Place: $3,000 USD
3rd Place: $1,500 USD
• Single Image Award
1st Place: $3,000 USD
2nd Place: $1,500 USD
3rd Place: $1,000 USD
• Juror's Pick: Each juror will select an individual Juror's Pick to receive special distinction and $1,000 USD.
Eligibility:
To qualify to enter the competition, you must be over 18 years of age.
Copyrights & Usage Rights:
All photographers retain full copyrights for their own work. Period.
Winners, Jurors' Picks and Finalists grant LensCulture limited, restricted use of winning photos only to promote the photographers themselves and in connection with marketing LensCulture Awards competitions. LensCulture editors will select and feature hundreds (but not all) of submissions during the competition in our online gallery and social media albums (always with copyright credit noted for each participating photographer).
Theme: