LensCulture Visual Storytelling Awards 2019
FREE Entry Option, NYC Exhibition, Massive Global Exposure and more
Deadline: 19 December 2018
Entry fee: Single entry: Free / 5+ Singles: 50 USD, 10 USD for each additional photograph / Series (up to 10 images): 60 USD
Submit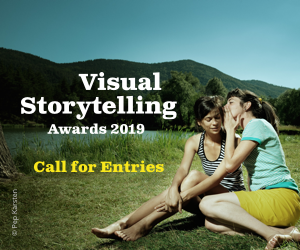 The LensCulture Visual Storytelling Awards recognize the work of photographers weaving compelling narratives into their work. Our international jury is looking for image makers who are defining contemporary visual storytelling, whether that be through documentary work, imaginative storytelling, or something that combines (or defies!) all of the above.
Show us how you're using photography to chronicle world events or the experiences of those closest to you. Take our breath away with narrative images that challenge our thinking, expand our understanding or hit a chord with our emotions. Surprise us, delight us, confront us.
This competition aims to uncover photographers from diverse backgrounds and experience levels, share their work with the world and connect them with career-changing opportunities. Winners will be exhibited at Aperture Gallery in New York City in 2019!
Prizes:
Featured at International Photo Festivals
Selected works will be screened at photo festivals and events worldwide. Over the past year, our winners and finalists were screened at festivals in the UK, Greece, Croatia, Italy, Japan, Australia, Spain, France, the US, and more.
LensCulture is continually forging new partnerships with leading photo festivals around the world (like Voies Off, FORMAT, Tokyo International Photography Festival, and more) to increase exposure and showcase opportunities for our winners and finalists from our competitions.
Published in The Best of LensCulture, Volume 3
In partnership with Schilt Publishing, we're thrilled to be planning for our third book, featuring the work of our award-winning photographers. This beautifully printed and unique collection of photographic work will be available for purchase and distributed to industry members worldwide.
Visibility With Industry Insiders & Galleries
Did you know we are connected to thousands of photography industry insiders around the world, including top photo editors, book publishers, gallery owners, festival directors, agents, curators, and online media publishers? LensCulture has become a key resource for discovering new photography work all over the world. All it takes is one set of eyes to change the course of your career. Share your work with us for industry-wide exposure.
International Press Exposure
Award winners receive press coverage from publications and media outlets around the world, the kind of exposure that can lead to viral, global recognition of your work. Winners, finalists and selected entrants have been featured in major publications like BBC, The Guardian, The Washington Post, Internazionale, VICE, The Times of London, Huffington Post, Spiegel Online, The British Journal of Photography, and The Telegraph. Share your work with the world.
Cash Awards
Series
$5,000 for Documentary Winner
$5,000 for Imaginative Storytelling Winner
Single Image
$2,500 for Documentary Winner
$2,500 for Imaginative Storytelling Winner
Other Awards
Jurors' Picks
Each of our 8 jurors will select a photographer who they feel deserves a special distinction.
Finalists
25 photographers will be shortlisted and announced on our website.
Eligibility:
-
Copyrights & Usage Rights:
All photographers retain full copyright for their work. Winners, Jurors' Picks and Finalists grant LensCulture limited, restricted use of winning photos only to promote the photographers themselves and in connection with marketing the Awards competition itself.
All entrants agree that all photographs submitted to the competition may be reproduced (with photographer copyright credit) and used to conduct and promote LensCulture competitions. You hereby grant LensCulture with a right to use submitted photographs in the framework of such promotional activities.
Theme: