MACRO > LARGER THAN LIFE
Exhibit your work at Praxis Gallery!
Deadline: 16 August 2022
Entry fee: $35.00 for submission set of 5 images. $5.00 for each additional image.
Submit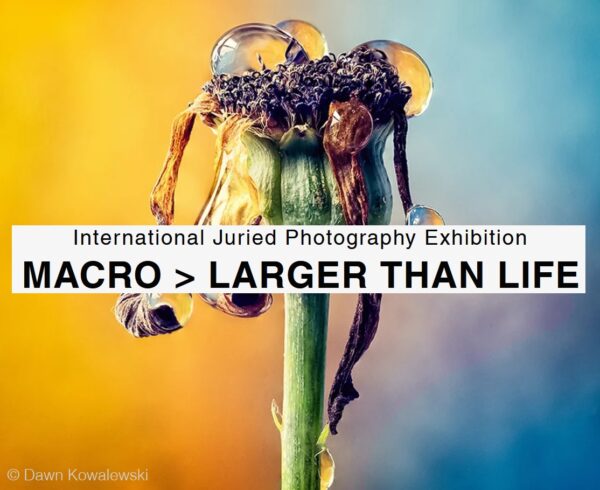 Macro photography is all about showcasing a subject larger than it is in real life — an extreme close-up of something small. Photography is always a matter of perspective. "It's an alien world when you get into the macro level." - Ben Long.
Macro photography challenges the photographer to capture the minute, granular details of a world that generally escapes our daily attention: this can include insects, plants, natural and human produced details of any and every subject matter in the world around us – from the texture of feathers to the geometric labyrinth of a microchip board.
Praxis Gallery seeks the submission of photographic art that transforms the miniature into the larger than life, images that showcase the unseen and overlooked, and tiny moments of beauty presented through a magnified perspective. All genres, capture types, color and black & white, traditional and non-traditional photographic and digital post-production processes are welcome for submission.
CURATOR | PRAXIS DIRECTORS
Program Director Ross Anderson is an award-winning fine art photographer and filmmaker. Gallery and Installationist Director Jonathan Pavlica is the Praxis Print & Color Artist, Photo Editor, and installationist. Project Director Sarah Weiss is an artist, educator, and co-founder of CollabArts Twin Cities.
Prizes:
Up to 36 Images will be selected by the juror for exhibition at Praxis Gallery. One Curator's Choice and three Honorable Mentions will be awarded and featured in the exhibition, the printed show catalog, and the online exhibit gallery. Curator's Choice will receive free entry into three juried calls for entry of their choice and a complimentary exhibit book.
Eligibility:
International, all accepted.
Copyrights & Usage Rights:
Artist retains all copyrights to their own images. The artist's name and photo title will be included wherever the photographs are displayed. Artists whose photographs are accepted for exhibition grant Praxis Gallery the nonexclusive right to use, print, and reproduce submitted digital files for the purpose of the exhibition, promoting the artist, promoting related programs and subsequent display on Praxis Gallery's website, social media, and online exhibition archives.
Theme: