Magazine: Call For Entries
We are looking for 6 fantastic photographers
Deadline: 31 May 2022
Entry fee: 10€ to 30€
Submit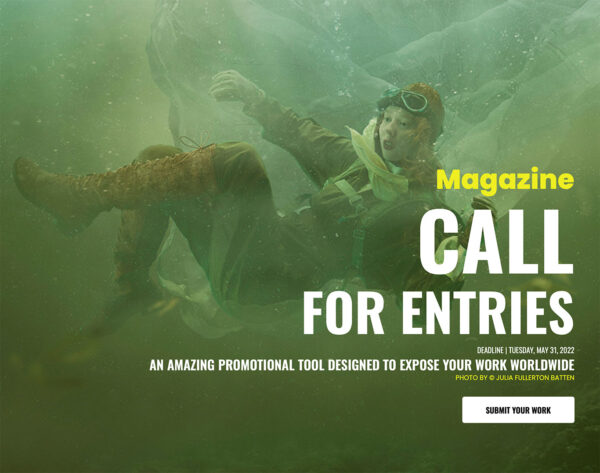 Our mission is to discover the best talent, promote it and spread it, because we live and breathe photography, because we know the effort, the work and the passion behind each image, the need to find and capture beauty, to find a unique moment, to interpret the reality that surrounds us. Of the will that is needed to explain a story through a reportage, and to decipher the truth that is hidden in it.
For us, photography is light, life, emotion, communication, a challenge, but it is also a purely introspective act that forces us to question the way we see the world, our way of looking at reality, imbuing each photograph with a little bit of ourselves.
Our print edition has been designed as a promotional instrument, a tool to present your work to the world and give it the boost it needs. Exclusively professional in nature, it is distributed to leading galleries, agencies, festivals and industry professionals to ensure that your images are seen directly by the right people and in record time.
After 20 editions, our print edition has proven to be highly effective in promoting new photographic talent worldwide, and today, our print edition has become a leading magazine in the photography scene around the world.
Now is the time to focus in the right direction to get real results. All you have to do is select your best images and projects, register for the call for entries and upload your files using the registration form.
Prizes:
Publication in the printed edition of your work, Digital and online diffusion of your images, Legal coverage of your work for two years
Eligibility:
All countries
Copyrights & Usage Rights:
All participants to Call For Entries, by virtue of their presentation, believing the images and projects presented are their own work and there has been no infringement of copyright. Dodho is not responsible for any infringement of rights may arise during the selection process and subsequent display of any image. The entrant is responsible for obtaining, prior to submission of the photograph, any and all releases and consents necessary to permit the exhibition and use of the photograph. The projects will be judged by a professional and relevant jury in the photography field, with no flare and none of the author data. The jury's decision will not be appealable and will be definitive.
The images and projects copyright will be exclusively and at all times of the photographer and author of the project. The images will use strictly in relation to the Dodho prizes and will not be used for other purposes than the direct promotion of their authors. The images may not be used in any case by any third party without the express consent of the author and by written request, which will be sent to the author by email. Dodho is granted the right to publish the best works received in its online version and subsequent promotion in its social networks, always safeguarding authorship and copyright.
Theme: