Metro Photo Challenge 2018
The Grand Prize has a total value of around 3,500 euros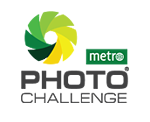 For the 14th global edition of the Metro Photo Challenge, Metro is proud to present this year's photography contest that will focus on feelings #MakeUsFeel.
To be a part of Metro Photo Challenge 2018 you need to upload at least one photo in any of the three categories:
1. Happy
2. Hope
3. Sad and/or Angry
Prizes:
The three (3) winners will each receive the Grand Prize: a 5 day photographic expedition to Thailand. The Grand Prize has a total value of around 3,500 euros per person which includes: Round-trip from the country of origin of the winners; accommodation for the whole stay in Thailand (4 nights); and activities, transportation and guide during the whole stay.
Eligibility:
If you are not a resident of any of the Metro countries, you may still take part in the challenge via the "International section".
Copyrights & Usage Rights:
When submitting your photo for the Metro Photo Challenge 2018, each Participant expressly acknowledges and declares that each photograph submitted to this contest was created under the form of a "Work by Order" of METRO, in accordance with the applicable provisions in the field of law of author. Due to the above, by participating in this event, it is understood that the participants accept this modality. The author (s) of the material selected by the jury as the winner (s), is obliged and must sign any document (s) that may be required by Metro International Licensing, SA , related to the economic rights of the work (s) or the registration of the photographic work (s). No photograph (s) will be returned to participants, as the patrimonial rights belong to Metro International Licensing, S.A.
Theme: