Million Dollar Portrait Prize
A picture is worth a thousand words, but could yours be worth $1m?
Deadline: 1 April 2019
Entry fee: $50
Submit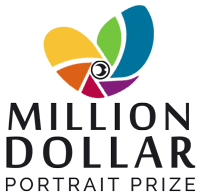 Whether you're a hobbyist, a professional, or just the person who snaps the pics at family gatherings because you know how to work the camera, everyone who takes a photograph has a common purpose; they have a story they want to tell.  And we want to hear yours.
The largest digital photography competition in history, the Million Dollar Portrait Prize photo contest is here, and the theme for submissions is 'portraits'. Entrants can submit a photo of any composition under this theme, where the subject is one or more persons, and their face/faces are the predominant focus.
Our contest is open to amateur or professional photographers aged 18 or over from anywhere in the world. As long as you can snap a portrait, you have a chance to claim the million-dollar prize.
Prizes:
1ST PRIZE     $1,000,000
2ND PRIZE    $100,000
3RD PRIZE    $50,000
4 PRIZES OF  $25,000
10 PRIZES OF $10,000
20 PRIZES OF $5,000
50 PRIZES OF $1,000
Eligibility:
Amateur or professional photographers aged 18 or over from any country.
Copyrights & Usage Rights:
The copyright holder retains copyright of their work. Copyright holders grant the organiser unlimited non-exclusive use of high-resolution pictures for activities in all media, including social media, in relation to the contest, and all promotional activities for and under the auspices of the Million Dollar Portrait Prize and any successor contest, without any remuneration being due.
The copyright holder represents and warrants that submission of the image does not breach any law, and further that no third party holds any claims or any objections regarding the rights granted to the organiser as specified in rule 5. The copyright holder will hold the organiser harmless of any claims from third parties related hereto.
Theme: