Mobile Photography Awards 2016
$3000 (us) Grand Prize, Gallery exhibit in Cyprus
Deadline: 4 December 2016
Entry fee: Entry fees are $15 for one (1) image, $30 for three (3) images, $50 for six (6) images and $100 for fifteen (15) images.
Website: http://www.mobilephotoawards.com/
Submit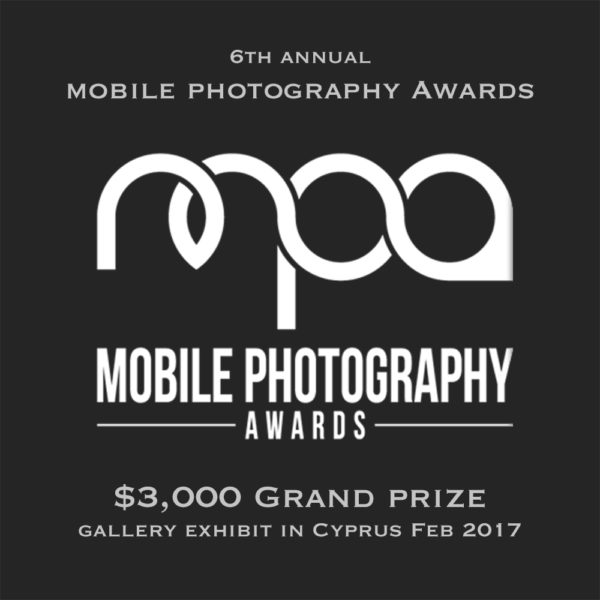 The Mobile Photography Awards is the world's largest and longest running annual event & competition for mobile phone photography.
The MPA was founded in 2011 to recognize and celebrate the worldwide talent and imagery of the mobile phone photo & art communities.
Since 2011, the Mobile Photography Awards has produced more than a twenty successful exhibits in Los Angeles, San Francisco, New York, Toronto, Melbourne, San Jose, and more.
The Mobile Photography Awards has 20 photo categories. Every image entered may be placed in up to two (2) categories. All category winners receive MPA prize packs and are included on the exclusive MPA Exhibit Tour, with further opportunities for fine art sales.
Prizes:
$3000 (us) Grand Prize, Gallery exhibit in Cyprus, prints, gear and services.
Eligibility:
Photographers of all ages and countries of residence are welcome to submit images.There are no restrictions on submission eligibility with regard to age or residence unless prohibited by the jurisdiction in which the entrant resides.
Copyrights & Usage Rights:
Entrant retains 100% of the copyright to their images
Entrants grant the Mobile Photography Awards the right to use submitted images on the Mobile Photography Awards website and for promotional purposes.
Theme:
Architecture Fine Art Landscape Multi-categories Nature People Portrait Travel Urban Street Wildlife