9th Annual Mobile Photography Awards 2019
The Grand Prize Winner receives $3000 (US)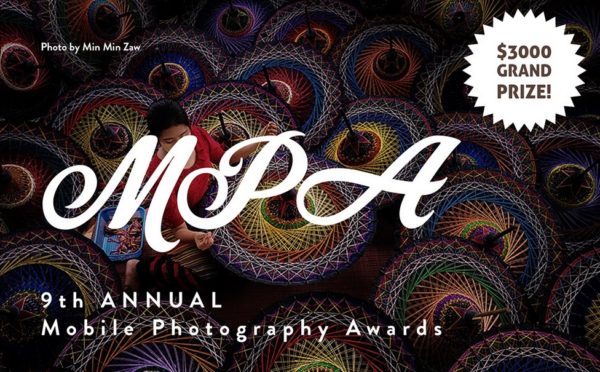 The Mobile Photography Awards were founded in 2011 to recognize and celebrate the talent and imagery of the mobile photo & art communities. Alongside our annual competition (October-December), we produce themed exhibits with international open calls throughout the year. If it's true what Henri Cartier-Bresson says, that our first 10,000 photos will be our worst, then mobile photography has given people an historic opportunity to quickly get past 10,001. The MPA is a showcase for photographers and artists who have embraced this decisive moment.
Images shot and edited on any mobile phone or tablet including iPhones, iPads, Android phones and tablets, Windows Phones, and the iPod touch are eligible for entry.
All works accepted for display as part of the Mobile Photography Awards Exhibits will be considered for sale at the exhibitions. Standard retail prices will be suggested correlating to the size of the print in the show. Prints will range in size from 10×10 to 18×24.
Prizes:
The Grand Prize Winner receives $3000 (US)
Eligibility:
Photographers of all ages and countries of residence are welcome to submit images.There are no restrictions on submission eligibility with regard to age or residence unless prohibited by the jurisdiction in which the entrant resides.
Copyrights & Usage Rights:
Entrants grant the Mobile Photography Awards the right to use submitted images on the Mobile Photography Awards website and for promotion. Entrant retains 100% of the copyright to their images
Theme: