Moments Collective Annual Exhibition 2024
Moments Collective's exhibition will run for 3 weeks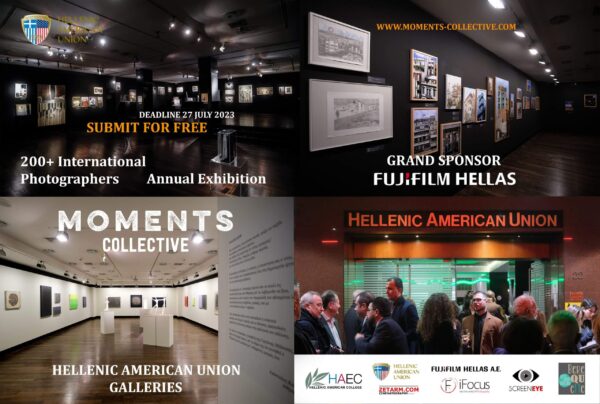 Calling all photographers, from amateurs to professionals! Get ready to embark on a captivating journey into the world of photography at the OPEN THEME - Moments Collective Annual Photography Exhibition 2024, hosted by Moments Collective in collaboration with Fujifilm Hellas. This grand celebration of photography will take place at the esteemed Hellenic American Union in Athens, Greece.
Whether you're just starting your photographic journey or have been capturing moments for years, this exhibition is designed to inspire, engage, and delight photographers of all skill levels. It's an opportunity to immerse yourself in the artistry and creativity of the photographic medium, surrounded by the works of talented individuals who share your passion.
From breathtaking landscapes to intimate portraits, each photograph on display will tell a unique story, transporting you to different times, places, and emotions. As you wander through the exhibition, you'll be captivated by the diverse perspectives and artistic visions showcased by photographers from various backgrounds.
So mark your calendars and join us for this extraordinary event at the Hellenic American Union. Together with Fujifilm Hellas, Moments Collective promises an unforgettable celebration of photography, where inspiration knows no bounds.
Prizes:
Moments Collective's exhibition will run for 3 weeks and will include all necessary elements for their execution.
will print the exhibited photos on 260 gsm paper, framing and hanging them
will be responsible for the press releases, invitations, opening night, and supervision.
Additionally:
The work of the artists/photographers that will be featured in the exhibition will also be included in the Moments Collective Annual Magazine.
After the conclusion of the Moments Collective Annual Exhibition, participants will receive via email a "Certificate of Participation".
Eligibility:
eligibility implies that photographers of all levels, ranging from amateurs to professionals, are welcome to participate in the event. Regardless of your experience or skill level in photography, you are eligible to submit your work for consideration and potentially have your photographs displayed in the exhibition. The aim is to create an inclusive and diverse gathering that celebrates the art of photography and provides an opportunity for photographers from various backgrounds to showcase their talent.
Copyrights & Usage Rights:
All copyrights belong to the photographers
Theme: